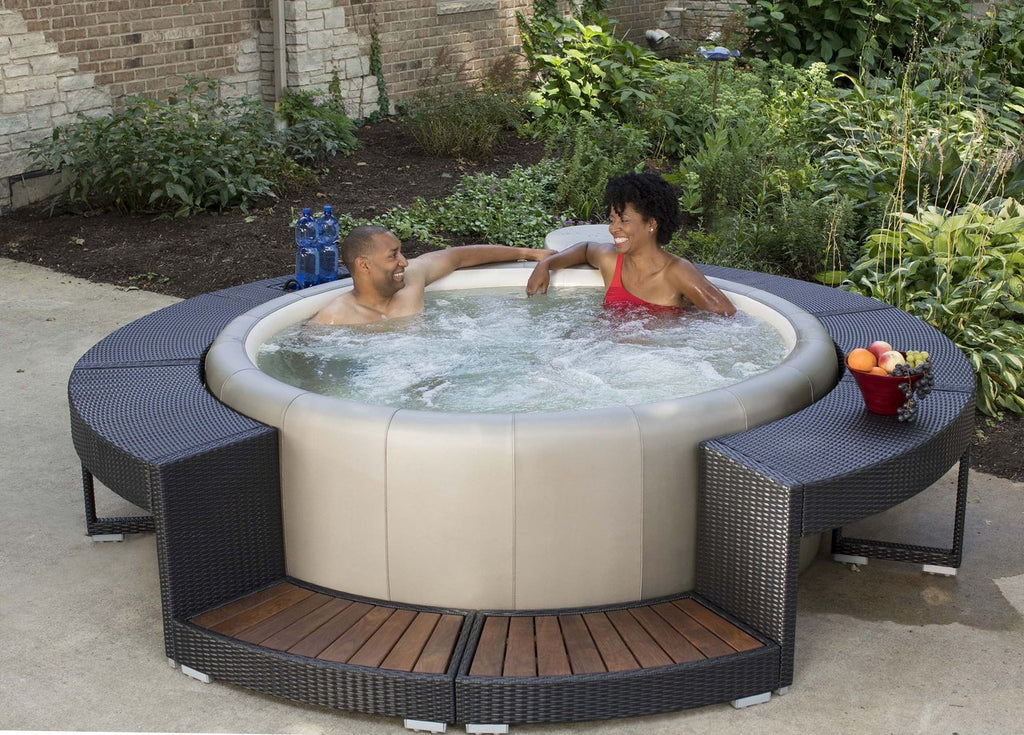 On the surface, Softub spas seem to have everything needed to be portable. How does this work out in real life though, and does the added portability sacrifice performance?
We look at whether Softub portable spas really are portable. 
How Portable are Softubs?
When you think of a high-quality hot tub, portability isn't one of the first things that comes to mind. The sheer size and weight of a traditional hot tub mean that once it's in place, it's not going anywhere fast. Add in the fact that the average hot tub can need extensive site prep, plumbing, and electrical installations and it's best not to think about moving it.
It's a very different story when it comes to Softubs though.
First of all, with the Softub portable spa, all you need is a flat surface and access to a regular household electricity plug. This means your Softub can go virtually anywhere you have a free space and it's plug and play.
Here's the most important part: the total empty weight of the mid-sized 220 Legend is 127lbs.
This allows you to effortlessly flip your Softub on its side and roll it into place. With an outer diameter of 71 inches (just 59 inches for the smallest model, and 78 inches for the largest) it can easily fit through doors and sit on the back of a pickup. 
The Softub portable spa is built with convenience in mind and it truly is as portable as it appears. 
What Does This Mean for You?
One of the biggest drawbacks to buying a hot tub is that it's awkward. 
You often need a crane to hoist it into position and once it's there, moving it is an expensive and time-consuming operation. What happens if you move house or want to redesign your yard? Then your hot tub becomes a bit of a burden. 
With the Softub portable hot tub, there are no such considerations. 
Your new Softub is so portable you can even move it from the front yard in the morning to the back yard in the evening to chase the sun. It can go with you to your holiday home, sit on the back of a yacht, come inside for the winter - you're in complete control.  
Ultimately, a Softub portable spa gives you a level of convenience that just can't be matched by a traditional hot tub. 
What Else Can You Expect from a Softub Portable Spa?
The fact you can easily move your Sotfub spa is a huge benefit but it's not the only reason to buy one. All our models are packed with industry-leading technology to give you a high-performance, efficient portable hot tub.
Performance
When you're looking at a portable spa, it's natural to ask questions like "do you still get the same level of performance?"
Hot tubs have been cumbersome for decades, and it's for a reason. However, modern technology has meant that it's possible to offer the same level of performance with a fraction of the bulk.
Softubs are always hot and ready to use - 24 hours a day and have strategically placed, interchangeable hydro-jets. In fact, they feature some of the most powerful jets in the industry, so you get the ultimate level of relaxation. 
Not bad for a portable spa!
Efficiency
The other big drawback to hot tubs is the cost. Even after you've paid for your tub, prepped the site, and installed all the extras, you've still got to pay for its running costs. 
For an average hot tub, the cost of heating the water can be anywhere from $40 to $75 a month. The innovative technology in our Softub models makes them extremely efficient, bringing the average heating cost down to just $9.60 a month. 
This is a huge saving and makes Softub the best portable hot tub you can buy. 
Cost
If the Softub is truly portable, still offers top-level performance, and drastically reduces running costs, then surely it's got to cost more to buy?
Interestingly, a Softub portable spa actually costs less than the average traditional hot tub. A traditional spa will generally cost you upwards of $7,500, but even the top-of-the-range Softub Portico comes in at under $7,000. 
This allows you to benefit from a portable hot tub with all the high-end performance of a traditional spa without having to spend any extra money.
Conclusion: Softub Portable Spa
Softub spas are portable! 
With an average model weighing 127lbs and measuring 71 inches in diameter they can easily be turned on their side and rolled into a new position. All they need is a flat surface to rest on, and you can move them anywhere you like. 
This makes your Softub portable spa much more versatile, giving you endless possibilities for how you use your new hot tub.