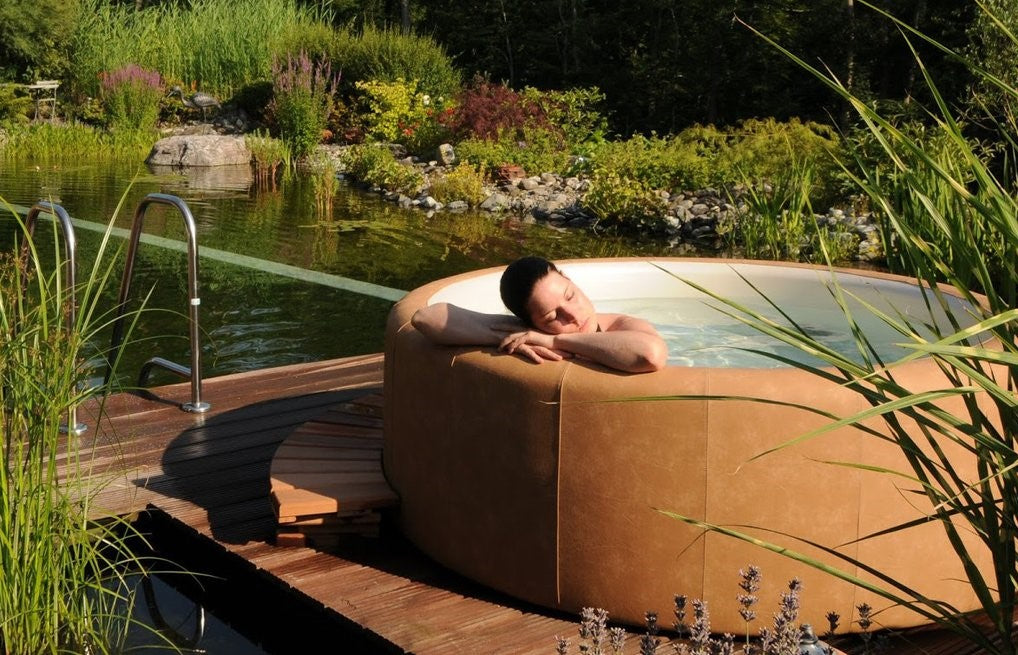 We often get asked, "how long does a Softub last?"
Because our spas are so portable, this often leads to the impression that they won't last as long as a traditional hot tub. However, that's far from the case, and thanks to high-quality materials and a commitment to longevity, your Softub will last for many years. 
Craftsmanship Centered Around Softub Longevity
Softub hot tubs have been manufactured with two key principles in mind: portability and longevity. Portability makes these hot tubs more convenient than a standard hot tub, but it wouldn't be valuable without a commitment to longevity. 
We pack our Softubs with the latest technology and highest quality materials to offer you top performance that lasts.
With over 35-years of experience, an industry-leading warranty, and thousands of happy customers, you can rest assured you're getting a durable hot tub when you buy a Softub.
20-Years of Stellar Softub Service
We regularly hear from customers whose Softub spas are still in operation after over 20-years of service. 
If a traditional hot tub were to last that long it would need some serious facelifts along the way, but Softubs are built to last. It's not just our commitment to high-quality materials either; it's the little details like the thermal lid that's included in the price. 
Every Softub is built with care in either our California or Massachusetts manufacturing plant with the goal of offering lasting quality. Longevity is just as much our commitment as portability, and Softub excels at both.
The Latest Softub Technology
When looking at how long a Softub lasts, we need to look at the technology used in these hot tubs. The reason Softubs combine industry-leading performance with portability and longevity is that we use innovative, space-age technology. 
While lightweight, the high-density foam is extremely strong, allowing you to move it with ease without damaging it. On the outside, all our Softubs are finished with marine-grade vinyl that provides a strong, high-end finish. 
This helps protect your hot tub from the worst the weather can throw at it. Whether you're used to freezing ice or scorching sun, Softubs are built to weather it all.
Portability Adds to Longevity
If you're asking how long does a Softub last, then you have to factor in the portability aspect. 
With a traditional hot tub, you drop it into place, and once it's there you're not likely to move it. If you're looking to move house, redesign your garden, or even move it to a summer home, then your options are limited.
This can limit its longevity. If it's not in the right place, it's not going to get as much use, or you may just end up throwing it into the price of your house sale. 
It's a completely different story with the Softub as it can go with you wherever you go. If you move houses it's easy to take with you; you can move it to the lake house; you can even put it on the back of a yacht. 
This doesn't change how long the hot tub will last, but it might change the amount of use time you get out of it.
Sustainability Built Into A Softub
Everything has its shelf life. We don't promise that your Softub will last forever, but when it eventually does reach the end of its life your spa is completely renewable and recyclable. 
Longevity is one thing, but it can't come at the cost of sustainability. 
Softubs are made at a green manufacturing facility and built to the highest standards to ensure that when they're no longer useful they won't leave a stain on the environment.
A 5-Year Softub Warranty
To show how committed we are to longevity, we offer an industry-leading 5-year warranty. We're confident in the materials we use and the technology that powers our Softubs, and we want you to share that confidence. 
This means you can be assured that should anything go wrong with your product, we're here to help. 
Softub is the leading portable hot tub you can buy and unlike many cheap imitations, it's built to last. Our industry-leading 5-year warranty means you can purchase in confidence and know you're getting the best value for your money.
Conclusion: How Long Does a Softub Last?
Softubs are built to last. Our 5-year warranty is testament to this commitment and we regularly speak to customers who still use their Softub even after 20-years. 
They may be highly portable, but this doesn't mean you're missing out on performance or longevity. Our hot tubs are packed with the latest technology to ensure you're getting a top-of-the-line product and longevity is an important part of that.