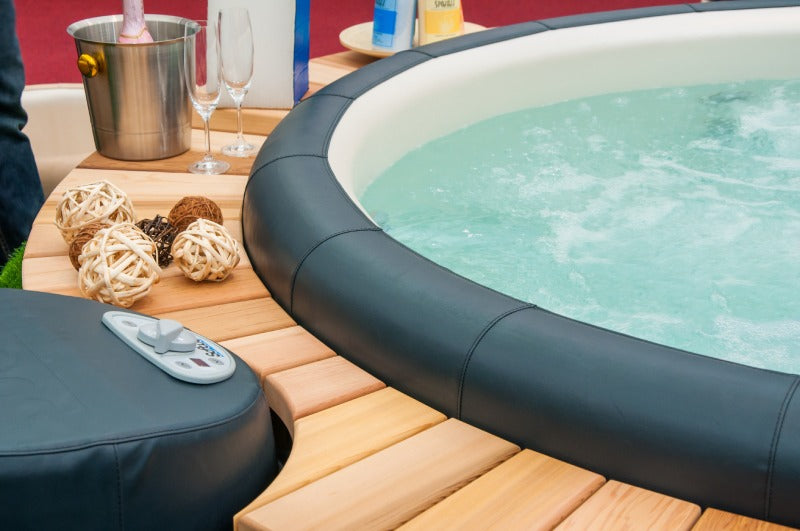 Wondering which softub model to choose? It can be a tricky decision, so to help you out, here are some of the main differences between the 2 person and 4 person softub.
Capacity
The most obvious difference between the 2 person and 4 person softub is capacity. The 2 person softub is designed to perfectly accommodate two people, while the 4 person model is an ideal fit for four people.
Which one you choose will depend on your needs. If you're after a relaxing hot tub for a couple, then the Softub 140 Sportster might be exactly what you need, but if you're thinking of hosting more people, then you might be better suited to the Softub 220 Legend.
Size
Naturally, a softub that holds more people is going to be slightly bigger. While the 2 person softub has an outer diameter of 59 inches, the 4 person softub is 71 inches across.
While all softub models are known for being extremely portable, the slightly smaller size of the 2 person softub makes it even more nimble.
Weight
A bigger size results in more weight, another reason why the 2 person Softub 140 Sportster is a little more portable than the 220 Legend. Our 2 person softub weighs 107lbs without water, whereas the 4 person softub weighs 127lbs.
The easiest way to transport a softub is by rolling it on its side, so when it comes to transport, this difference is negligible.
Water Capacity
Different sizes also mean different water capacities. To comfortably accommodate four people, the 4 person softub holds 220 gallons, a lot more than the 140 gallons of the 2 person model.
This is all relative, and both models have been perfectly optimized to offer maximum comfort and relaxation.
Energy Consumption
As the 4 person tub has more water to heat it tends to use a little bit more energy than the 2 person model. They both come with the same motor, which means the 4 person model needs to work a little bit harder to get the same results.
The great thing is all our softub models are incredibly energy efficient. They're specifically built to fit your regular household outlets, and innovative technology means they generally consume less than a quarter of the energy of a traditional hot tub.
This can result in big monthly savings whether you choose the 2 person or 4 person model.
Jets
All softubs are packed with powerful, strategically-placed jets to help wash away your stress. For the 2 person model, this results in four jets, and with the 4 person softub you get 5 jets.
These are interchangeable hydro-jets the provide powerful hydrotherapy, bringing lots of health benefits to softub users.
Price
All of these differences result in slightly different pricing:
Our Softub 140 Sportster - $4,295
Our Softub 220 Legend - $5,095
There's no right or wrong answer here, it's simply a question of what you want to get out of your softub experience. If that means two of you relaxing out in the yard in the evenings, then that's going to be slightly different from hosting parties where lots of people are using the tub.
The Same Great Benefits
Whichever model you decide on, you're guaranteed to get the same great benefits. All softubs are built with performance and convenience in mind, making them the ideal hot tub alternative.
Easy Installation: Softubs are lightweight, so they simply roll into position. They also plug into a traditional electricity plug, meaning no electricians or plumbers needed.
Low Running Costs: Energy efficiency means your softub needs less power to heat the water than traditional hot tubs. This can result in big savings on your monthly bills.
Maximum Performance: The softub might be portable and come with low running costs, but it doesn't hold back on performance. They come with some of the most powerful jets in the industry, perfect for ultimate relaxation levels.
Conclusion: 4 Person Softub vs 2 Person Softub
The 2 person and 4 person softub are slightly different, but there's not a lot in it. The 2 person model is a little bit more compact, making it slightly more portable and energy-efficient, but we're talking about small differences.
The key question is what do you want to use your tub for?
If you want a little bit more flexibility, then the answer is the 4 person softub, but if only two people are likely to use it, then the 2 person model is the best option.