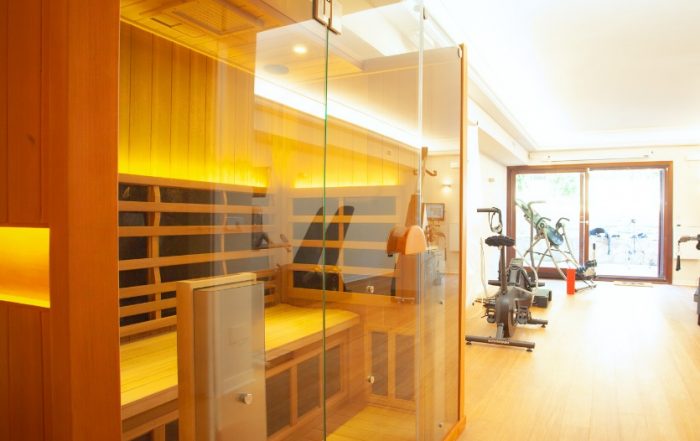 If you're thinking about investing in an infrared sauna, then it's likely you've got lots of questions!
Something we're often asked is "what's the best home infrared sauna," so we thought we would share some helpful information. 
There are lots of great options to choose from, so have fun picking out the ideal model for your needs. 
First, What is An Infrared Sauna and How Does it Work?
An infrared sauna uses infrared wavelengths to heat your body and offer impressive health benefits. 
We get infrared rays naturally from sunlight, and they offer great benefits, however, exposure to the sun can also be damaging to our bodies. Home infrared saunas harness the benefits of infrared rays without exposing you to the harmful aspects of too much sunlight. 
Unlike in a traditional sauna, where the stones heat the air which in turn heats your body, infrared rays heat your body directly. This makes the process much more efficient, allowing your infrared sauna to run much more economically. 
Not only are home infrared saunas efficient, but they're also a great way to relax while your body receives important health benefits:
Muscle pain relief

Immune system boost

Detoxification

Improves the appearance of cellulite

Eases joint pain and stiffness

Reduces stress and fatigue

Improves skin
All of this while you sit back, relax, and enjoy your infrared sauna!
The Best
Home Infrared Saunas
One of the great things about home infrared saunas is that they come in all shapes and sizes. 
There are also different wavelengths to choose from:
Near-infrared: Great for wound healing and cellular repair

Mid-infrared: Good for increasing circulation

Far-infrared: Excellent for detoxification 
The most sought-after home infrared saunas are either far-infrared saunas or full-spectrum saunas. These offer a perfect balance of luxurious comfort and health benefits that make home infrared saunas the perfect investment. 
At Evergreen Softub, we have a wide selection of both far-infrared and full-spectrum infrared saunas with varying capacities. Whichever option you choose, you're bound to feel like you've made the right decision when you feel the glowing warmth of the gentle infrared rays. 
What to Look for in a Home Infrared Sauna?
What should you be looking for when you're thinking of investing in a home infrared sauna?
At Evergreen Softub, we always think that when you're investing in something like this, the first thing you should be looking for is customer service. You're making a big purchase and you've got tons of options to choose from, so you want to make sure you get it right. 
The best way to do this is if you have experienced experts guiding you through the process. 
When you buy with Evergreen Softub, we'll help ensure you get:
The right sized home infrared sauna

With the ideal infrared technology

At the right price

With convenient installation
We offer the best home infrared saunas around, but it's the support that takes our service to the next level. When you're buying your home infrared sauna, that's exactly what you should be looking for. 
FAQs: Home Infrared Saunas
Are Infrared Saunas as Good as Traditional Saunas?

The simple answer is yes. Not only are infrared saunas more efficient, but they still offer all the benefits we know and love from a traditional sauna. Infrared rays are highly effective at penetrating deep into the body, stimulating your cells, and promoting wellbeing.

Does Using an Infrared Sauna Provide Vitamin D?

A home infrared sauna can increase both the production and absorption of vitamin D, bringing you all the health benefits associated with it. Many people who have vitamin D deficiencies look for alternative ways to top up, and infrared saunas can be the ideal option. 

How much do home infrared saunas cost?

Our high-end far-infrared saunas start at just over $5,000 whereas a mid to premium model traditional sauna can cost anywhere upwards of $10,000. When you combine this with the savings you make from an infrared sauna's superior efficiency, it can result in big savings over the lifetime of the product.
Conclusion:
Home Infrared Saunas
The best-infrared sauna for home use is up to you. You'll be able to look at your budget and requirements and choose the perfect sauna for your home.
What's important is that when you work with Evergreen Softub, you know you're getting the highest quality home infrared sauna, and the support of our experts. 
You'll also be safe in the knowledge that your infrared sauna is more than a match for any traditional sauna!