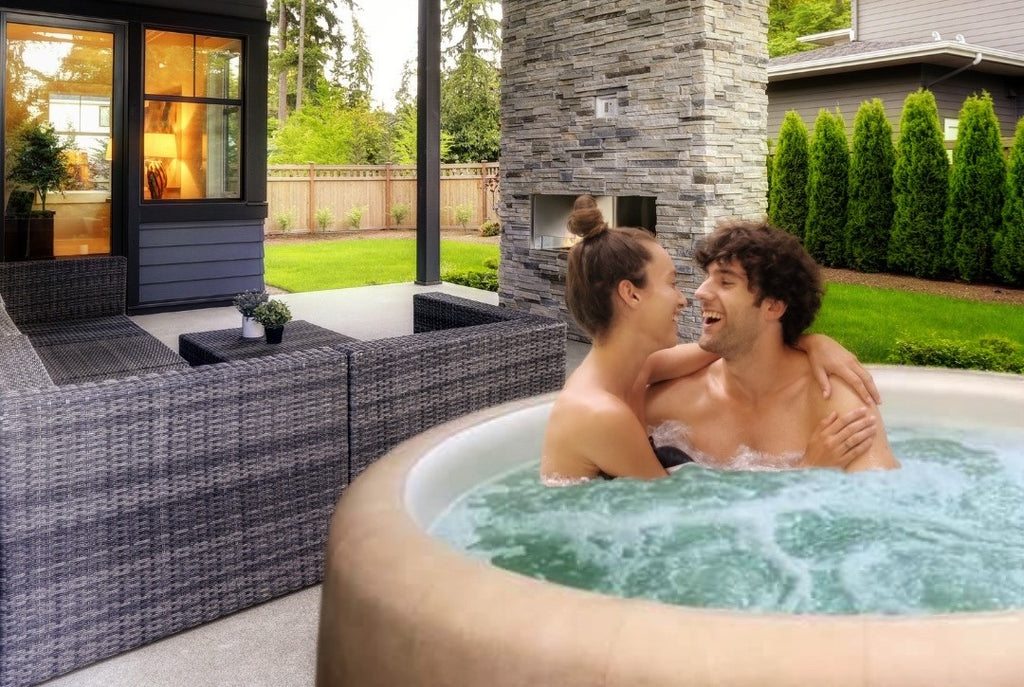 If you've been waiting for the perfect moment to invest in a 2 person spa hot tub, then now's the time!
Combining performance, convenience, and value, our 2 person Softub spa is ideal for couples looking for ultimate relaxation.
Why Invest in a
2 Person Spa Hot Tub
?
For the ultimate reason to invest in a 2 person spa hot tub, go and sit in one! When you're encapsulated in blissful, bubbling water, your worries wash away, and all of the aches and pains go with it. 
A softub is the ultimate in relaxation, and when you own one, you have on-demand access to the perfect stress reliever. Life can be fast-paced, and sometimes it feels like you never get a moment for yourself, but a hot tub is the perfect excuse to get out of the fast lane and just relax!
With a 2 person spa hot tub, you can also share those peaceful moments with a loved one, making it even more special. 
What to Look for in a
2 Person Spa Hot Tub
So, a 2-person spa hot tub sounds like a great idea, but what exactly should you be looking for from the best softubs?
Performance
Let's start with the most important aspect - performance. 
Hot tubs are all about luxury relaxation, and you're not going to get this from lukewarm water and flimsy jets. 
There are lots of hot tubs out there at a variety of different price points, so it's important to get the best option and that's why you should consider a soft-sided hot tub, or Softub. If you simply go for the lowest price on a hot tub, then it's likely you're going to miss out on the main reason you're investing a substantial amount of money in the first place - a great experience. Our softubs are a great balance of excellent performance and benefits with a comfortable investment.
Make sure your 2 person spa hot tub has high-quality jets and is also built to last.
Size 
Think carefully about what you're going to be using your softub for and decide on the right size. If there are just going to be two of you using the spa, then don't be sold on a larger model that you don't need. 
If it's just the two of you using the softub 95% of the time, then you're much better off investing the extra money in a quality model than buying a larger tub for the one time a year that other people want to use it. 
Convenience
Softubs might be the ultimate in luxury relaxation, but they are an investment. One of the other elements that hold people back is the inconvenience. 
With a traditional hot tub, you've got to find the perfect spot in your yard, excavate the land, lift the tub in, get electricians and plumbers in to set everything up, and see a big increase in your electricity bills. 
None of this has to be the case though!
With our Softub spas, you not only get incredible performance, but you get maximum convenience. 
All of our models are portable, so they can simply be rolled into place on any flat surface. What's more, it plugs into a traditional electricity outlet, so it's ready to plug in and go immediately. 
Value
Let's not forget about value. You can end up spending tens of thousands of dollars, even on a 2 person spa hot tub. This isn't necessary though, because there are great options that won't break the bank. 
Again, our Softub spas are a great option here. Although the 2 person Softub 140 Sportster comes in at $4,295 (much less than a traditional alternative), it still features industry-leading jets, and some of the best technology in the business. 
You want to get value for your money, and that's exactly what our softub portable spas provide. 
Get the Best
Softub Experience
Hot tubs are all about an amazing experience and that extends to the buying experience. 
With Evergreen Softub, we'll make sure you get the perfect 2 person spa hot tub, with great service, and the help of our expert knowledge. 
Our softubs are surprisingly economical to run, can be rolled into place, and still offer top-of-the-range performance. All of this comes together in the ideal 2 person spa hot tub.