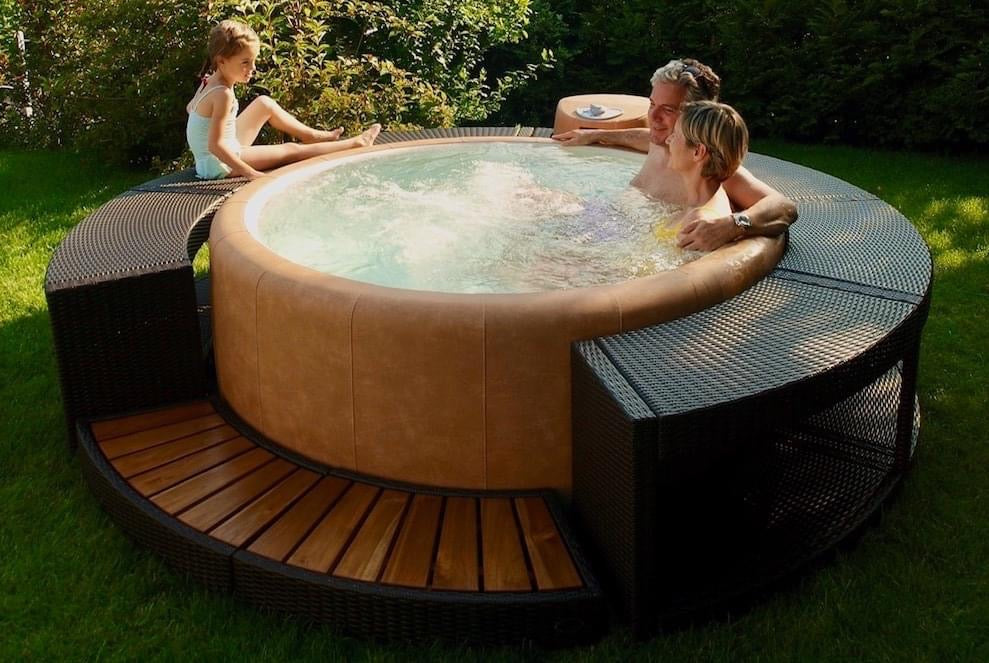 Are you searching for the perfect 4-person hot tub?
If the answer is yes, then we've got the perfect option for you!
We've considered performance, convenience, running costs, and more, to find you the ideal 4-person hot tub for your backyard. Here it is!
The Perfect Outdoor Hot Tub
So, what does the perfect outdoor hot tub look like?
You might be picturing a big, cumbersome hard exterior that's stuck in a corner of your backyard. However, the perfect 4-person hot tub isn't big, or cumbersome, and it's actually portable. 
With a 4-person Softub, you get the same high performance as a traditional hot tub, but with so much more. 
Not only is it incredibly easy to install (more on that later), but it looks amazing, and can go anywhere in your house. Inside, or out, Softubs just need a flat space and they plug straight in. 
Let's take a closer look at the Softub portable 4-person hot tub. 
How Much Does it Cost to Run A Softub?
Here's the great news: Softubs are incredibly efficient.
It all starts with installation. 
Rather than being craned into place and needing special electrical outputs, Softubs roll into place and plug into regular electrical outputs. This makes installation a breeze and saves you money from day one. 
Once it's plugged in, your Softub will continue to save you money. 
It's full of smart technology to keep your water at the perfect temperature while saving energy. In fact, it costs on average $9.60 a month to heat a Softub 4-person hot tub, versus $40-75 a month for a traditional hot tub. 
Oh, and did we mention it's completely portable?
How Big is a 4-Person Hot Tub?
4-person hot tubs are an ideal size. 
Not too big to overpower your backyard, but big enough for everyone to relax and enjoy the luxury experience. 
Choosing the right-sized hot tub can be a little bit tricky. There's always that one day a year where you might want a huge party-sized hot tub, but what about the rest of the days?
For most people, the 220 Legend 4-Person Softub Spa is an ideal fit.
It's got an inner dimension of 61 inches, which gives everyone plenty of room to relax, but it also doesn't take up needless space. With an outer dimension of 71 inches, it can fit nicely on a deck, or anywhere in your yard. 
How Much Does a 4-Person Hot Tub Weigh?
A typical 4-person hot tub weighs between 750-800lbs, rising to over 3,500lbs when full of water. 
The Softub 4-person hot tub isn't typical though and the tub weighs just 65 lbs when empty, and 2119 lbs when full. 
This is a huge difference, and it has big implications. 
Not only is getting a traditional hot tub into your yard a challenge but once it's there, it's stuck there. There are no such problems with a hot tub. It simply rolls into place, and if you feel like moving it, then you roll it into its new location. 
It's so versatile you can put it on the back of a pickup and take it to your friend's garden party. 
Create a Luxury Hot Tub Experience 
Convenience and running costs are just part of the equation. 
The important thing is you have a 4-person hot tub that gives you a luxury experience. If it doesn't do this, then you're missing out on the main reason you wanted a hot tub in the first place. 
Luckily, Softubs come with powerful jets that are built to last. 
The strategically placed, interchangeable hydro jets provide powerful hydrotherapy to wash the stresses of the day away. It's hard to beat the feeling of relaxing in the warm water in your own backyard, and with Softub, this can be your new reality. 
Choosing Your 4-Person Hot Tub
Finding the perfect hot tub is a big deal!
It's an investment, but it's one that's worthwhile. When you're lounging around in luxuriously warm water, you'll be thankful you took this step. 
The key thing is working with experienced professionals who can help guide you to the perfect hot tub. At Evergreen Softub, our sales team will help you to find the ideal 4-person hot tub that's going to meet all your needs.