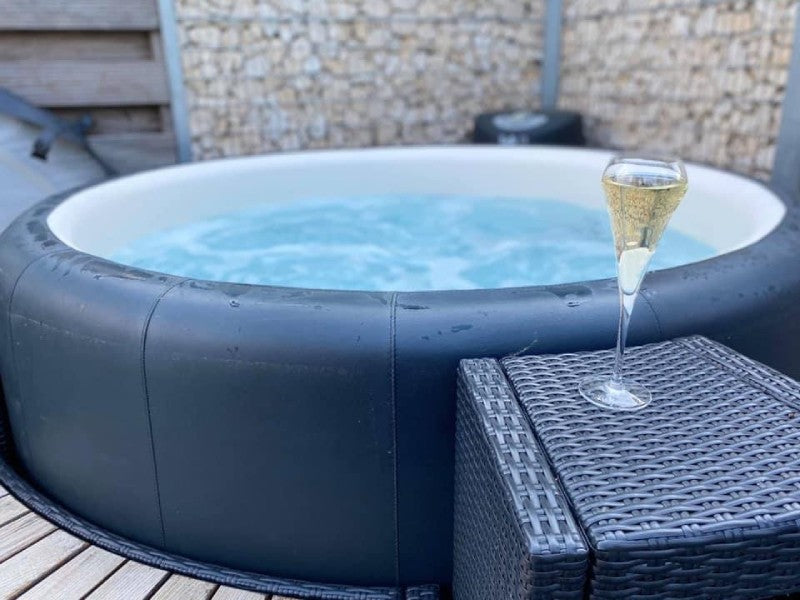 Are you considering a plug-and-play hot tub?
If you find yourself in the market for a brand new hot tub but don't want to be tied down by additional power needs, large space considerations, and big-time prices, Softub is the name that you need to know for all of your hot tub needs.
At Evergreen Softub, we offer some truly remarkable Softubs, or soft-sided hot tubs, for people just like you.
Our tubs go anywhere, are made to enjoy whenever, and are there when you need them to soak your cares away with ease. When it comes to comfort and relaxation after a long day, nothing beats time well spent in a hot tub with your friends, family, or loved ones.
We're going to take a look at how Softub portable plug-and-play hot tubs work, and whether they can offer the ultimate luxury experience using just a 110v plugin.
What is a Plug and Play Hot Tub?
A plug-and-play hot tub is one that plugs into a standard 110v electrical output.
As the name suggests, it allows you to simply plug in, and start enjoying your hot tub, without the need for any additional electrical works.
This is in contrast to a traditional hot tub which requires extra amperage of 220V. To prep the area for a regular hot tub, you'll need an electrician to install specialist equipment, and all of this adds to the installation costs.
You have no such problems with a Softub plug-and-play hot tub, and can get down to enjoying the luxurious experience more quickly.
Make Relaxation Easy
If you've always dreamed of owning a hot tub but aren't quite sure how to get more power to the location that you have selected to operate a traditional hot tub or are concerned about added expense, Softub is the answer that you are looking for.
You see, Softub only requires that you have access to a traditional 110v outlet to get the same quality of heat. Because of their innovative heat recovery systems, Softub plug-and-play hot tubs use less energy to produce the perfect temperature for your next soak.
All that you need to enjoy your new hot tub is a flat location either inside or out, an outlet, water, and a Softub. It doesn't get any easier than that.
A Truly Portable Hot Tub Experience
With traditional hot tubs, you are limited when it comes to portability due to the sheer size, weight, and limitations of a solid electrical hook-up.
When your hot tub is a Softub, you don't have to worry about that.
No matter where you are, you can get that relaxing, one-of-a-kind experience that lets you soak your cares away. Whether you are at the cabin for the weekend, at your home, or even at the campground, you can enjoy your Softub no matter where the road takes you.
Are Plug and Play Hot Tubs Any Good?
We know that plug-and-play hot tubs are convenient.
Being able to plug straight into a regular electricity plug is a huge plus, but are they any good?
The answer is - it's like anything: there are high-quality options and there are not-so-good ones. If you're investing in a quality brand like Softub, then you will get a high-performance plug-and-play hot tub.
In fact, the best plug-and-play hot tubs are a match for traditional hot tubs in every way.
With strategically placed, powerful hydro-jets, Softub plug-and-play hot tubs offer top-of-the-line hydrotherapy for maximum relaxation. The innovative technology used in these models packs a powerful punch, but it's also extremely reliable. Softubs have been known to still be in full working order even after 20 years of use.
Are Plug and Play Hot Tubs Safe?
With Softub plug-and-play hot tubs, comfort and safety come as standard.
You don't have to worry about maintaining specialist equipment as it plugs into a regular electrical output, and it comes with a Ground Fault Indicator. Every Softub plug-and-play hot tub is built to exceed the Electrical Spas, Equipment Assemblies, and Associated Equipment standard, making it a safe option for your family.
Just as importantly, they're incredibly comfortable!
Another one of the major benefits of owning a Softub is that you get supreme comfort no matter where you choose to sit.
With padded seating throughout, a comfortable open barrier seating design, and a spacious feel with room for everyone, there is no end to the hours of comfort that you will enjoy in your new Softub.
Just How Portable Are Plug and Play Hot Tubs?
When you're accustomed to traditional hot tubs, it's hard to imagine a portable hot tub that offers high performance.
The thing is, Softub plug-and-play hot tubs are packed full of smart technology that makes this a reality. Whether you choose our 2-person plug-and-play hot tub, 4-person plug-and-play hot tub, or 6-person plug-and-play hot tub, you will get convenience and performance combined.
Even with the largest model, the 6-person Portico, the tub only weighs 80lbs.
It's easy to flip on its side and roll into a new location. What's more, it can easily fit on the back of a pickup truck and head with you wherever you go. This is a popular option for people with summer houses and even yachts.
How Much Does a Plug and Play Hot Tub Cost to Run?
You might have guessed this given a plug-and-play hot tub runs off a lower voltage than a traditional hot tub, but they're actually very efficient.
In an average climate, it costs about $9.60 a month to heat a Softub hot tub. This is a lot cheaper than the approximate $40-75 a month it costs to run a traditional hot tub.
Add in the fact that the setup costs for a Softub hot tub are also much lower, and you'll find you save a lot of money.
Create a Luxury Hot Tub Experience
If you're looking to create the ultimate luxury hot tub experience, then a Softub plug-and-play is an excellent option.
Modern plug-and-play hot tubs combine great performance with incredible convenience, and this is hard to beat. Being able to plug into a regular electrical output and immediately enjoy your new hot tub is a huge advantage, but it doesn't stop there.
In short, they're the perfect way to combine convenience, efficiency, and luxury.