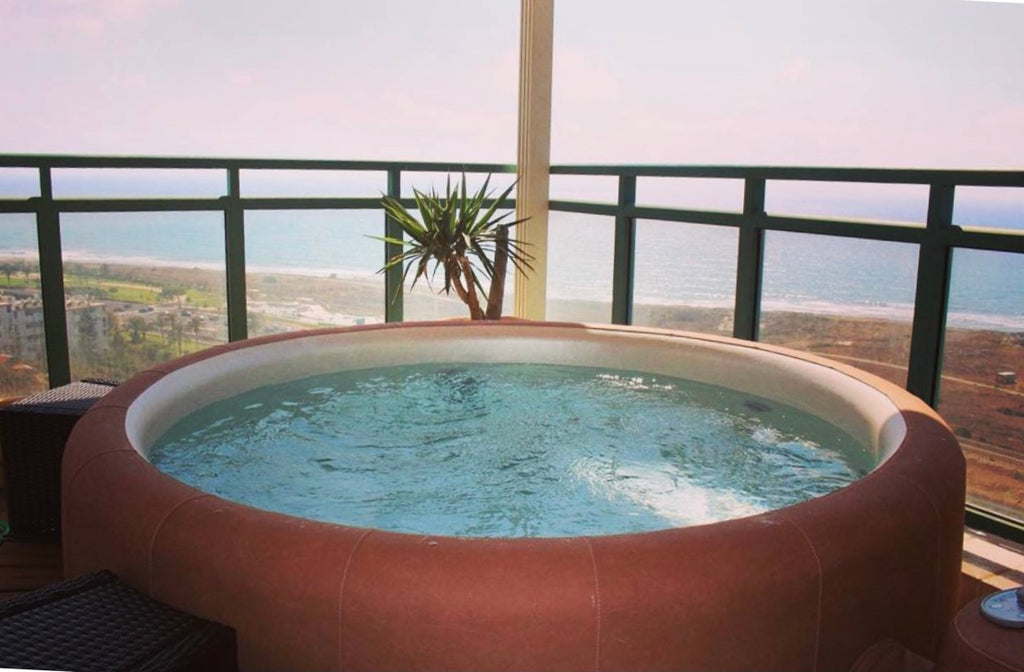 Have you ever dreamed of owning a hot tub that you simply plugged into an outdoor outlet? 
Well, with an Evergreen Softub 110v hot tub, that dream is about to come true!
Just think, you'd be getting all of the benefits of a hot tub without the added expense of running additional electricity to your patio, porch, or home. 
Sounds pretty good, doesn't it? 
When you get your first, or next, Softub with Evergreen Softub, you get the ease of a simple plug-in, the safety of GFCI protection, and the simplicity of having a truly portable hot tub that can go with you anywhere. No one does soft-sided hot tubs like Evergreen Softub. Take a closer look, and see why this is the hot tub that you have been waiting for.
What is a Softub 110v Hot Tub?
A Softub 110v hot tub is a hot tub that can plug into a standard household electrical outlet. 
This is in contrast to many traditional hot tubs that run on 220 volts, meaning they require extra electrical work to be done before they can be used. 
A Softub 110v hot tub is also extremely lightweight, meaning it can roll into place and go with you when you travel. This brings another bonus when it comes to setup - you don't have to pay to have the site excavated. All you need is a level surface!
So, we've ticked off easy setup, but what about convenience and performance?
Let's take a look at even more benefits of the best 110v hot tub. 
Can You Just Plug In a Hot Tub?
Yes and no!
A standard electrical output is 110v, which means only a 110v hot tub can plug straight in and immediately start working. 
If you're buying a 220v hot tub, this means you're likely to need additional electrical work before you can start using your spa. Of course, getting an electrician out is going to add to your installation costs, which is one reason why 110v hot tubs are so popular. 
Plug-and-play hot tubs are a popular concept because they're incredibly convenient. With a soft side hot tub, you've got something that's highly portable and can plug into any standard electrical output. 
Whether that's in your yard, house, or even on your yacht, a 110v Softub hot tub is the perfect option.
What Voltage Hot Tub Should I Get?
We've made some pretty good arguments for the 110v hot tub so far (they have low installation costs and they're incredibly convenient) but what about performance?
You might think that a 110v hot tub struggles to live up to the performance of a traditional 220v spa, but this is where modern technology comes in. Softubs are incredibly efficient, giving you the same level of performance without the high-levels of electricity consumption. 
With industry-leading hydro jets and water that's heated to the perfect temperature 24 hours a day, you can't go wrong with this innovative 110 volt hot tub. 
A Two Person Hot Tub For Every Occasion
There is nothing quite like a comfortable, romantic, and fun-filled evening spent in your very own hot tub. 
Sure, you could go out to a hotel or community center and sit in a tub that countless people have used, or you could get an even more enjoyable experience in the comfort and convenience of your own home.
When you choose the Evergreen Softub 110v hot tub, you get the perfect sized spa for therapy or even those romantic evenings with someone that you love. Choose our 140 Sportster 2 Person Spa, and get the comfort of four powerful jets, capacity for up to two people, and the ease of plugging into a 110v outlet.
A Tub With Room For Four
If you need a little bit more room in your hot tub, have no fear, there is an Evergreen Softub to fit your needs and exceed your expectations. 
Choose our 220 Legend, and get that room for additional people that your needs necessitate and keep the comfort, convenience, and portability that can only come with an Evergreen Softub. 
The Legend features 5 powerful and relaxing jets, that same 110v hot tub convenience, a plethora of distinct color choices, and a surprisingly light transportation weight that gives you the ability to set up your Softub wherever your next adventure takes you. 
After all, a vacation is always better with an Evergreen Softub!
Learn more about our four-person hot tub.
Big Time Space in Your Six-Person Softub
If you need big-time space in your hot tub but don't want to give up the comfort and portability of an Evergreen Softub, it's never been easier to get everything that you need.
We are proud to offer two different distinct and equally innovative six-person models of Softub to meet your particular space needs. 
Choose between our 300 Portico model with:
X-tra Tuff Vinyl

Full jet station control

The industry's most powerful hydro-jets 
Or, go with the 300 Resort Model with:
Affordable price tag

Therapy seat

Barrier-free seating 

5 adjustable hydrotherapy jets

2 pulsating jets designed to hit all of your sore spots 
There is no wrong answer when it comes to which hot tub that you should purchase for your home, as long as it is an Evergreen Softub.