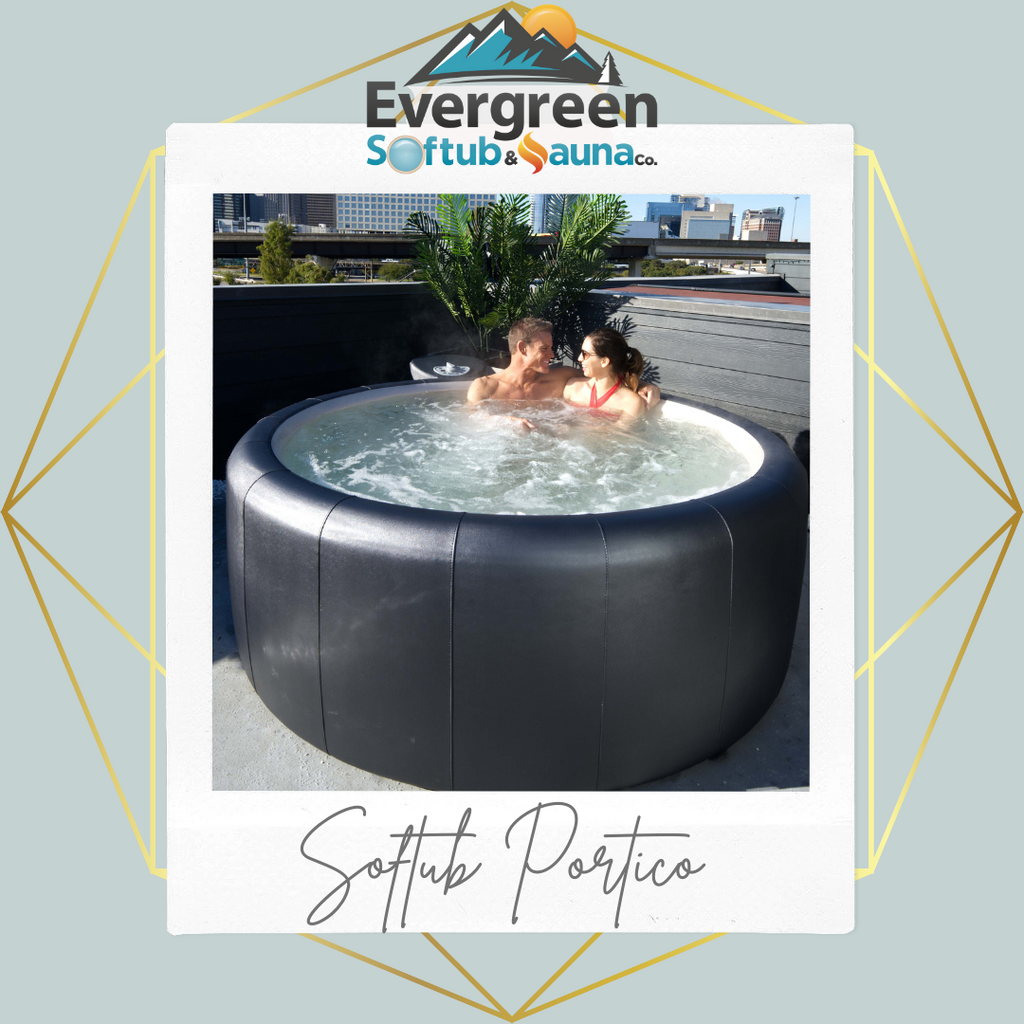 What are the major differences between the Resort and the Portico? Many people who want a larger spa for 4-6 adults simply want a concise breakdown of the features available in Softub's two large variants. If you are one of those folks, here is a quick comparison to help you decide which 300 is the right model for your wants and needs.
          Let's start with common ground: both models are just over 6 1/2 feet wide and 27" inches deep, for a sprawling space to share in full-body immersion. Both are available with 3 different styles of interchangeable jet heads that snap into any jet port to customize your relaxation with directional, rotating and pulsating massage. Both come complete with a Deluxe Folding Thermal Flip-Top Lid with combination locks for child safety and security, our famous Softub Hydromate heater-less plug-in pumping system, full thermostatic control from 70-104 degrees Fahrenheit, Multi-Color LED Lighting and a 5-Year Warranty on every inch, including the motor and the lid.
        Now for the differences in a tidy nutshell: the Resort, for the most part, embodies the classic, open design that Softub is known for, save a wedge, half-moon bench on one side that doubles as both a perfect entry/exit point and a lower-lumbar therapy station with a double-stack of vertical jets positioned above it. This bench also serves as a nice cool-off seat if you want to sit up for a bit and get your chest out of the water. The Portico, on the other hand has a wide, U-shaped bench that stretches around almost half of the interior of the spa with 3 independent therapy zones, including a side-by-side double-jet for lumbar, a vertical double-jet stack for spinal and a strategically placed single jet to vary the position and target of you're aquatic massage.
          Additionally, the Resort features 7 jets positioned around the tub's perimeter located at different heights to minister to specific parts of you're anatomy. The Portico, on the other hand, has 8 jets, again in targeted zones around the spa's circumference, but the 8th jet unique to the Portico is Softub's new Poseidon Whirlpool Jet with Trident Diverter System for not only a giant, wake-creating output of pressure, but the ability to crank up the power on specific jet zones elsewhere in the tub with a twist of your wrist. Plus, though both models again do feature Multi-Color LED, the Resort has a single lighting system, like its smaller model siblings, while the Portico boasts double-LED, streaming color effects from two sides of the spa for a larger underwater light show.
          Though there are some additional subtle differences (like standard Syntex exteriors on the Portico vs. an upgrade feature on the Resort), these are the style and feature points that make each 300 model unique. Loads of people are all in for the new features introduced in 2020 when the Portico was launched, and they want the bigger tri-zone bench and mega-powered Poseidon Whirlpool experience. Others just want a large, roomy tub with a mostly open attitude, soothing jets and steaming hot soaks. Some customers desire an ultimate feature set, whereas others just want a fun, family getaway or a wide open soaking area for aquatic calisthenics and exercise. And as the Resort is priced a bit more modestly than the Portico, it allows some shoppers to get a large Softub with a lower investment. However, those that go for the Portico never look back with its signature premium features and never-before offered flagship upgrades. Whichever 300 model you choose, one thing is certain—you are going to love the supple, bubbling escape from the everyday that all Softubs provide, right in the comfort and privacy of your backyard. If you want additional information about either of these incredible Softub models or to inquire about current promotional pricing, call our Softub Specialists at (866) 515-7119 or drop us a line at sales@evergreensoftub.com.