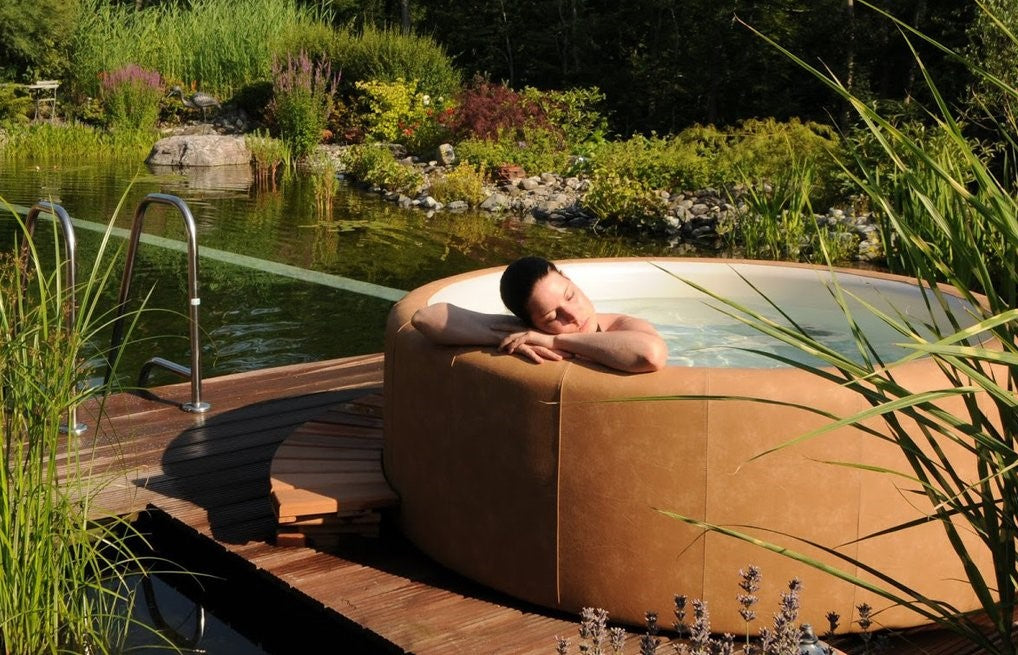 Don't be bamboozled when buying a spa. 
Take the stress out of the process and find the perfect Softub with our ultimate guide. We'll help you to get maximum value for your money without compromising on the features you need. 
Don't Compromise on Value
Buying a spa is a big investment and you want to make sure you're getting value for your budget. 
Traditional hard-side hot tubs generally cost upwards of $7,500 which can be limiting. The great thing about Softubs is they're much more friendly on your budget. The 2-person Sportster Softub starts at just over $4,000, and even our top-of-the-line 6-person Portico costs under $7,000. 
When you buy a hot tub, you're investing in luxury though, so do lower prices means, you're missing out on performance?
Softub's innovative technology means you get all the benefits of a traditional hot tub and more. Your budget will go further, helping you to own a hot tub with all the extras you dreamt of. 
Understand Size/ Capacity Needs
One of the first considerations when buying a spa is capacity. 
Hot tubs (and this is true with Softubs) are generally labeled by their water capacity, for example, the 220 Legend which has a water capacity of 220 gallons. When you're buying a spa online and picturing it in your yard this isn't particularly useful. 
Instead, you want to have a good idea of how many people you need to fit in your hot tub. 
Softub offers models for 2,4, and 6 people and the price goes up accordingly. 
Ask yourself what you're going to use your hot tub for and this will give you a good idea of the capacity you need. Will it just be you and your partner relaxing after a hard day at work, or will you regularly host guests for pool parties?
Choose Your Exterior 
Hot tubs aren't just for relaxation.
They're a major feature of your yard, and you want them to look great as well as serve a purpose. With Softubs, you have lots of different options to personalize your new spa and make sure its looks give you the same pleasure and enjoyment as its bubbling water. 
Choose from a LeatherTex (rich look of stressed leather) or a SynTex (textured with a gentle brilliance) finish. Both options come with at least five color choices to give your Softub a personal touch. 
Don't Stress Over Features
Sotfub likes to pack all of its technology into all of its models. We don't hold back, which means you don't have to worry about hidden extras for different features. 
All of our models come with our incredibly easy setup, energy-efficient heating system, lightweight portability, and powerful jets.  
The only time you have to think too much about features is when comparing the Portico to the Resort. The Portico has the added benefit of a U-shaped therapy seat plus a unique Poseidon Whirlpool Jet giving you the option of cranking up the jet power for even more relaxation. 
Buying a spa shouldn't be complicated, so we keep things simple by including all our best features as standard.
Think About Preparing Your Site
Actually, don't think about preparing your site!
With Softub's all you need is a flat surface and your yard, home, boat (wherever you want to put it) and it's ready to go. This is a huge thing when you're considering buying a spa as preparing your site can be expensive. 
Softub's can simply be rolled into place (they weigh about 80lbs), plugged into regular household electric points, and that's all you need to think about. No extra plumbing, no electricians, no excavators - just more time to enjoy your new hot tub. 
Sustainability 
We all want to ensure we're making conscientious purchases and this factors into many people's thinking when they're buying a spa. 
Not only have Softubs been documented by the California Energy Commission as the most energy-efficient hot tub gallon for gallon, but they're also made at a green manufacturing facility. 
Although incredibly durable (Softubs can last for 20 or more years), they're also renewable and recyclable, making this a truly sustainable option. 
Conclusion: Buying a Softub Spa
Buying a spa should be an enjoyable experience. You're investing in one of the great luxuries in life - so you've got a lot to look forward to. 
Think about your budget, how you're going to use your spa, and the features you need. 
Once you've got a good idea of what you're looking for, then you'll find that Softub offers a range of options to meet all your needs. We offer excellent value, and features that are extremely hard to beat, so now it's a case of picking the right one.