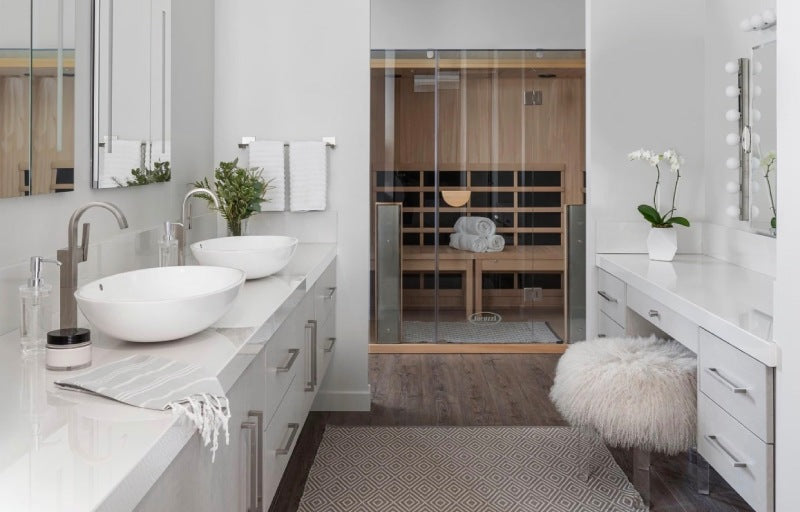 When you buy an infrared sauna for your home you naturally want to find the best place for it. So, where should you put your new infrared home sauna, and are there any limitations?
The key thing here is a flat surface, but other than that, you'll find our infrared saunas are highly resilient and will work well in almost any space.
Here's your guide to the best place to put an infrared sauna in your home. 
Why Have an Infrared Sauna at Home?
When you have an infrared sauna at home, it's like having a spa experience on tap.
You don't have to get in the car to go to your local health club. There's no sharing changing rooms, sitting next to a sweaty stranger, or having to move over to accommodate an extra person in the sauna.
None of that.
You simply have complete luxury when you want it, without ever having to leave your home.
The great thing about an infrared sauna is that it's perfectly adapted to home use. Because infrared rays warm the body directly, rather than heating the air first, they're more efficient than traditional saunas.
This makes them more economical to run, and also means they get up to temperature quicker, making them even more convenient.
They come with the same stunning looks as traditional saunas, which means they can be placed almost anywhere in your house or garden while adding to the aesthetic appeal of your property.
Where to Put Your Infrared Home Sauna?
All our collection of home infrared saunas need is a flat surface.
As we offer models designed for both indoors and outdoors, the rest is up to you. We've put infrared saunas on rooftops, in bathrooms, next to water features, you name it, we've done it.
The two things you need to keep in mind are the size of your space and access to an electrical outlet.
A one-person infrared sauna for home measures roughly 40"x44"x76", so even with limited space, it's likely you've got a spot that can accommodate one of the smaller models. Our saunas also plug into a standard electrical plug, which means there's no need for any electrical work to be done during installation.
Can You Put an Infrared Sauna in the Garage
There's no reason why you can put an infrared home sauna in the garage.
If you have a finished garage that's dry, then one of our indoor models will work well, however, if your garage is a little damp, then an outdoor sauna would be the best option.
Either way, you can get a high-performance home infrared sauna for your garage, and it's going to more than put up with the conditions.
What's more, we've got some stunning models to choose from!
Health Benefits of an Infrared Home Sauna
We've talked about the practical benefits of having an infrared sauna at home, but what about the health benefits?
The good news is there are plenty of those as well!
Weight loss and increased metabolism: Infrared saunas are known to give a similar boost to your cardiovascular system as running, helping you to increase your metabolism and lose weight.
Muscle pain relief: The penetrating heat of an infrared home sauna is perfect for relieving muscle aches and healing soft tissue injuries.
Immune system boost: By inducing an artificial fever, infrared heaters help to accelerate the immune response.
Detoxification: Sweat out impurities from deep within the body. Daily sauna use can help detoxify the body of toxic metals, alcohol, nicotine, sulfuric acid, and much more.
Improve skin: Profuse sweating helps to remove impurities and dead skin cells, giving your skin a glowing, clean appearance.
Ease joint pain: Just as with muscles, infrared saunas help to relieve pain from joint stiffness. This can help to treat sprains, neuralgia, bursitis, and other ailments.
Stress and fatigue reduction: It's important to take the time to destress, and there are few better ways to do so than in an infrared home sauna.
Infrared Home Saunas are Resilient
When you invest in a quality home infrared sauna, you're getting something that is built to last.
Whether you choose to go with an indoor or outdoor model, your infrared sauna will offer high performance and long-lasting beauty.
All that's left now is to pick out the perfect model for your needs and find the ideal spot in your home. Our saunas are highly adaptable so there's no space that's off limits!