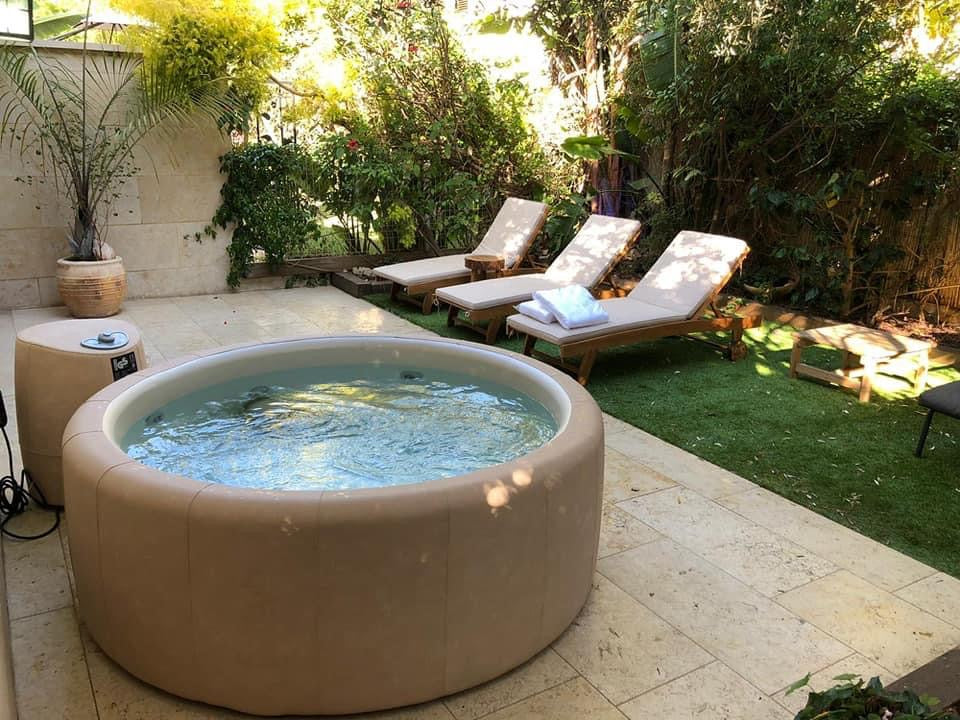 Need to add more privacy to your Softub?
You want to be able to enjoy your Softub in absolute privacy, so let's look at some steps you can take to ensure this is the case. 
Why It's Important to Create Privacy Around Your Hot Tub
A hot tub should provide you with the ultimate level of relaxation. 
That's difficult to achieve if it feels like the eyes of the world are on you when you're out enjoying your new tub. So, you might find you want to make a few changes to your hot tub area to give you a sense of exclusivity. 
You've invested in the ultimate luxury experience in buying your Softub, so now it's time to take the extra little steps to ensure you can enjoy it to the max. 
Here are some awesome hot tub ideas for privacy to help you out.
5 Simple Hot Tub Privacy Ideas
Let's make sure you've got the perfect space to sit back and enjoy your hot tub! 
Here are five awesome hot tub privacy ideas you can use to create a more secluded space for your hot tub. 
1. A Pergola or Gazebo
Pergolas and gazebos look incredible and they're the perfect way to add some privacy to your hot tub. 
This is the most expensive option on our list, but if you want to create an attractiveincredible space, it's well worth it. Not only do these structures add privacy, but they also help protect your hot tub from the elements and add a beautiful new feature to your yard. 
With flexible designs, your options are almost unlimited. 
2. Frosted Glass 
Frosted glass is a much simpler solution but it's still a highly effective hot tub screening idea.
For smaller tubs like the Softub 2-person plug-and-play hot tubs, just a few panels of frosted glass can give you complete privacy and a much more secluded feel. Frosted glass goes nicely in many settings, and adds to the luxury vibe your hot tub creates. 
3. Bamboo 
Lots of privacy ideas for hot tubs can be found in nature. 
Any kind of tall plant can work, but one that's particularly effective is bamboo. The tall stems and thick leaves help shield the hot tub while maintaining the natural elements of your garden. 
A few well-placed bamboo plants can add privacy to even the largest tubs like this 6-person plug-and-play hot tub.
4. Use Different Levels 
If your yard has different levels then you can use this to create the added privacy you're looking for. 
A sunken hot tub can look amazing, and it's another natural way to create the secluded feel you want. It might take a little more work than adding some bamboo plants, but this is one of the most popular privacy ideas for a hot tub. 
The hard work will be well worth it when you've got a private (perhaps even hidden) hot tub space. 
5. Curtains
Ok, so we've mentioned some amazing hot tub privacy ideas on this list, and now we're going for a super simple one - curtains. 
If you keep your hot tub on a deck, then it can be super simple to add some curtains and immediately give your tub extra privacy. It won't break the bank, but it's extremely effective and can be an elegant way to add privacy. 
FAQs: Hot Tub Privacy Ideas 
How do I make my hot tub area private?

You can make your hot tub area private with some simple hot tub privacy ideas. Consider adding a pergola, frosted glass, bamboo plants, or curtains, and you can create a much more secluded space for your hot tub. 

How do I put privacy in my hot tub?

You can add privacy to your hot tub in a number of ways. Tall plants are one of the easiest options, but if you want to go for something a little more comprehensive, then you could look at adding a pergola to your yard. 

How can I make my Softub more private?

It's extremely easy to make a Softub more private because they're portable and go in almost any space. All you need is a flat surface, and you can put your Softub there. This means a model like the

4-person plug-and-play hot tub

can easily fit on a deck, or in a sunken area of your garden where there's more privacy.

How do you shield a hot tub?

You can shield a hot tub using frosted glass. It helps to create a much more secluded space and maximize your privacy. 

Can you enclose a hot tub?

You can enclose a hot tub to shield it from the elements and create more privacy. There are lots of ways you can do this, but some of the most popular are pergolas and gazebos. 
The Perfect Hot Tubs to Maximize Privacy 
If you're thinking about buying a new hot tub, but are concerned about privacy, then you have to look at Softubs. 
These innovative hot tubs are perfect for maximizing your privacy because they're highly portable and incredibly easy to install. This means you can pick out the best spot to maximize privacy - and even if you change your mind, you can just roll it into a new position!