CLEARLIGHT SANCTUARY RETREAT - Full Spectrum Four Person ADA-Compliant Infrared Sauna
Infrared Sauna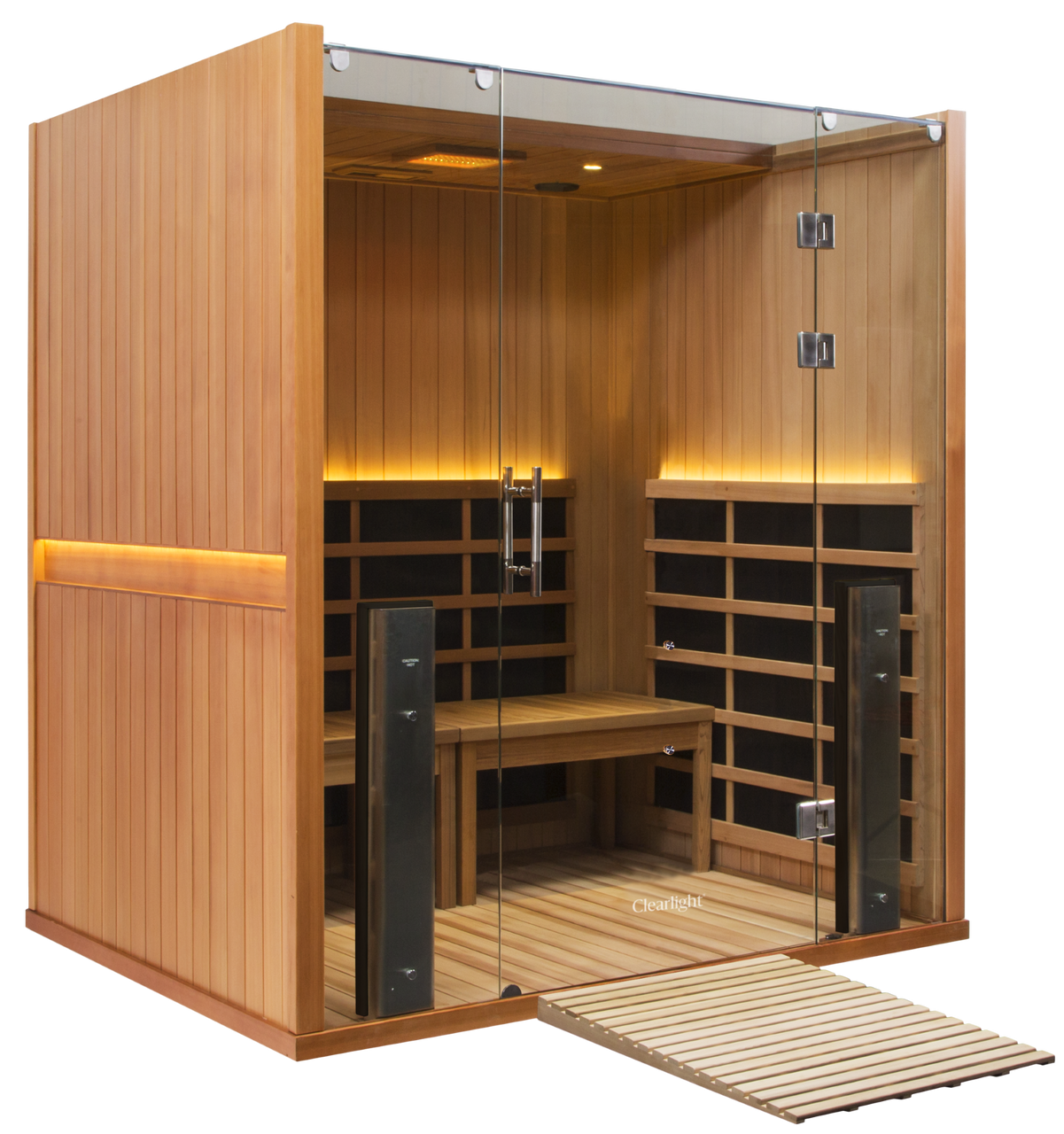 The luxury relaxation and impressive health benefits of an infrared sauna should be available to everyone. That's why we've put the best infrared technology in a wheelchair-accessible sauna.
When you walk into the average sauna it's pretty clear that it wasn't designed with wheelchair accessibility in mind, but all that has changed with this highly accessible sauna. A spacious layout, 1:12 ADA-Compliant wood ramp, and removable 35" benches mean anyone can enjoy the magic of this 4-person infrared sauna.
We all love feeling the warmth hitting our bodies and de-stressing from the day, but infrared saunas improve our lives in many ways:
Increasing metabolism and aiding weight loss
Relieving muscle pain
Boosting the immune system
Detoxifying the body
Improving the appearance of cellulite
Easing joint pain and stiffness
Reducing stress and fatigue
Improving the appearance of skin
These benefits can help anyone, but they're particularly beneficial for people who suffer from chronic pain or limited mobility. With a wheelchair-accessible sauna, you can bring these benefits to everyone, and make a real difference in people's lives.
With a contemporary design and groundbreaking innovation, our saunas are unlike any other. They are the only true Full Spectrum infrared saunas available offering advanced near, mid, and far-infrared technologies to maximize the benefits of sauna use.
The state-of-the-art 4-person infrared sauna has an accessible remote control that works in concert with our sleek tablet/smartphone app. This allows for complete control over the sauna enabling the operator to create the perfect environment for recovery and relaxation.
With easy accessibility and unrivaled technology, our 4-person wheelchair-accessible sauna is a must when it comes to commercial saunas.
FEATURES
iOS/Android Smartphone Control (optional).
Medical Grade Chromotherapy Included.
Bluetooth/MP3/Aux Audio with USB charging connection.
Distinctive ADA-Compliant door handle.
1:12 slope ADA-Compliant wheelchair ramp.
Two removable benches.
Interior mid-level sauna controls.
Reservation mode so you can set your sauna to turn on up to 36 hours in the future.
True Wave carbon/ceramic low-EMF far infrared heating technology on the back wall, side walls, and in the floor and our low EMF full spectrum front heaters.
ELF shielding with the lowest ELF levels in the industry.
Flawless "furniture grade" cabinetry with 8mm thick glass front and ceiling.
Italian designed sauna with a glass roof for style and comfort.
Comprehensive Limited Lifetime Warranty.
Easy Installation (this product does require some assembly and installation - normally about 60-90 minutes).
Much More…
SPECIFICATIONS
 WOOD TYPE
The Sanctuary Retreat is available in either Mahogany or Basswood.  We use 8mm thick tempered glass and double wall tongue and groove construction.
HEATERS
True Wave™ far infrared heaters on the back wall, side walls, under the bench, next to your calves and in the floor.
True Wave™ full spectrum heater located on the front wall.
ELECTRICAL
240 volts
3,610w watts
15.1 amps
Plugs into a 240v outlet
Plug:  NEMA 6-20p

 INTERIOR DIMENSIONS
EXTERIOR DIMENSIONS

Width: 71″
Depth: 61″
Height: 81″
Benches: Two 35″ x 22″ flat benches
Ramp: 36″ x 28″
Slope:  1:12 (1″ – 2.25″)

Width: 76″
Depth: 64.5″
Height: 85.5″
Weight: 780 lbs
Shipping on all saunas typically takes 4-6 weeks (can be longer if not in stock). We will contact you via email after you place your order with more specific shipping information.