CLEARLIGHT SANCTUARY 1 - Full Spectrum One Person Infrared Sauna
Infrared Sauna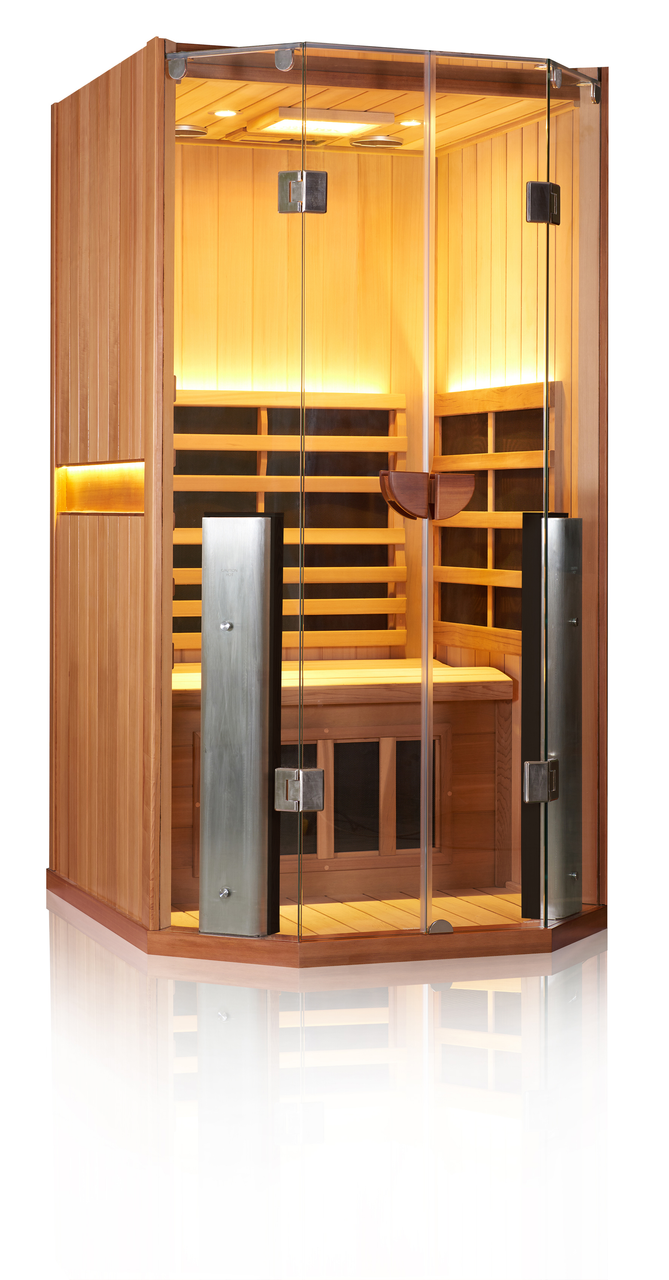 Our innovative full spectrum sauna is the leading luxury 1 person infrared sauna. 
Instant access to unrivaled relaxation. Whether you're coming home from a tough day at work, a challenging gym session, or simply want to sweat away the stress of the day, this is the 1 person infrared sauna you need. 
That's before we even begin to mention the incredible health benefits of infrared saunas:
Muscle relief

Improved circulation

Clearer skin

Detoxification

Weight loss

Better sleep
The best part is, you can get all of this without having to lift a finger. All of this from the comfort of your own home, in your own private 1 person infrared sauna. 
Available in either Mahogany or Basswood, an infrared sauna from our Full Spectrum line can become a beautiful feature for your home and it's packed full of impressive extras. 
With a contemporary design and groundbreaking innovation, these Saunas are unlike any other. They are the only true Full Spectrum infrared saunas available offering advanced near, mid, and far-infrared technologies. 
The True Wave Full Spectrum heating system provides all wavelengths 100% of the time and a state-of-the-art digital sauna control works in concert with our sleek tablet/smartphone app to give you the ability to control your sauna remotely.
With this full spectrum 1 person infrared sauna, you're in control of your relaxation. It's the perfect space to rest and recover without ever having to leave your home. 
If you're looking to treat yourself, then there's no better way to do it than with a personal infrared sauna in your home. 
FEATURES
iOS/Android Smartphone Control (optional).
Medical Grade Chromotherapy Included.
Built in charging & audio station.
Distinctive door handle/smartphone cradle for easy media viewing.
Reservation mode so you can set your sauna to turn on up to 36 hours in the future.
True Wave carbon/ceramic low-EMF far infrared heating technology on the back wall, side walls, under the bench, next to your calves and in the floor and our low EMF full spectrum front heaters.
ELF shielding with the lowest ELF levels in the undustry.
Flawless "furniture grade" cabinetry with 8mm thick glass front and ceiling.
Italian designed sauna with a glass roof for style and comfort.
Comprehensive Limited Lifetime Warranty.
Easy Installation (normally about 60-90 minutes).
Much More…
SPECIFICATIONS
 WOOD TYPE
The Sanctuary 1 is available in either Mahogany or Basswood.  We use 8mm thick tempered glass and double wall tongue and groove construction.
HEATERS
True Wave™ far infrared heaters on the back wall, side walls, under the bench, next to your calves and in the floor.
True Wave™ full spectrum heater located on the front wall.
ELECTRICAL
120 volts
1,750 watts
14.6 amps
Plugs into a 120v / 15 amp outlet
Plugs into a standard household outlet.
Plug:  NEMA 5-15p 
 INTERIOR DIMENSIONS
EXTERIOR DIMENSIONS

Width: 38″
Depth: 45″
Height: 74″
Bench: 38″ x 22″

Width: 43″
Depth: 48″
Height: 77″
Weight: 425 lbs
Shipping on all saunas typically takes 4-6 weeks (can be longer if not in stock). We will contact you via email after you place your order with more specific shipping information.