CLEARLIGHT PREMIER IS-2 - Two Person Far Infrared Sauna
Infrared Sauna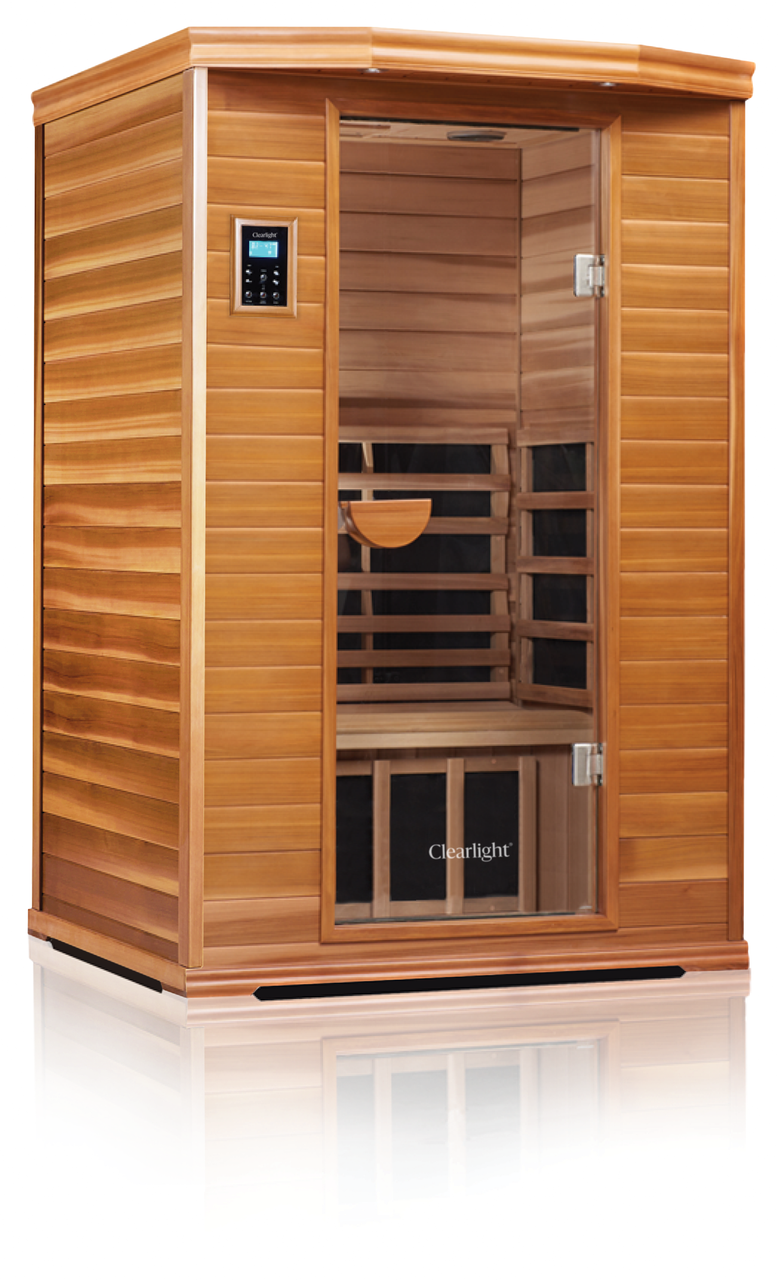 There are lots of reasons why infrared saunas are becoming so popular in the health and wellness community, but the most obvious one is that they just make you feel good!
With the Clearlight Premier IS-2 two-person sauna, you can get on-demand access to that feel-good factor as well as some brilliant health benefits. Infrared is a naturally occurring wavelength that saunas harness to maximize health by:
Increasing metabolism and aiding weight loss

Relieving muscle pain

Boosting the immune system

Detoxifying the body

Improving the appearance of cellulite

Easing joint pain and stiffness

Reducing stress and fatigue

Improving the appearance of skin
With a classic sauna design, your two-person sauna includes roof ventilation, recessed LED accent lights to help set the mood, an interior light for reading with a beautiful wood lampshade, Bluetooth/AUX/MP3 Audio inputs, Nakamichi stereo speakers, and Never Fail™ digital keypad both inside and outside to control temperature, time and lights.
This puts you in complete control and allows you to enjoy your 2-person far infrared sauna in ultimate luxury!
What differentiates Clearlight Premier™ saunas from all others? 
Craftsmanship and our True Wave™ heater technology! All of our Clearlight Premier™ far infrared saunas are made with the highest quality tongue and groove Eco-Certified Mahogany or North American Basswood and include our advanced True Wave™ heaters making Clearlight saunas the sauna of choice.
Relax in complete luxury while you enjoy the great health benefits of infrared with the
Clearlight Premier IS-2
two-person sauna
FEATURES

True Wave™ carbon/ceramic low-EMF heating technology on the back wall, side walls, front wall under the bench, next to your calves and in the floor.  You are surrounded by infrared heat.
ELF shielding with the lowest ELF levels in the industry.
Standard chromotherapy lighting.
Reservations mode so you can set your sauna to turn on up to 36 hours in the future.
Flawless "furniture grade" cabinetry.
Distinctive door handle/smartphone cradle for easy media viewing.
Comprehensive Limited Lifetime Warranty.
Classic sauna design.
Easy Installation (this product does require some assembly and installation - normally about an hour).
Much More…
SPECIFICATIONS
 WOOD TYPE
The Premier IS-2 is available in either Mahogany or Basswood.  We use double wall tongue and groove construction.
HEATERS
True Wave™ far infrared heaters on the back wall, front wall, side walls, under the bench, next to your calves and in the floor.
ELECTRICAL
120 volts
1,750 watts
14.5 amps
Plugs into a standard household outlet.

 INTERIOR DIMENSIONS
EXTERIOR DIMENSIONS

Width: 45″
Depth: 40″
Height: 71″
Bench: 43″ x 22″

Width: 50″
Depth: 44″
Height: 76″
Weight: 395 lbs
Shipping on all saunas typically takes 4-6 weeks (can be longer if not in stock). We will contact you via email after you place your order with more specific shipping information.