CLEARLIGHT SANCTUARY OUTDOOR 5 4-5 PERSON OUTDOOR FULL SPECTRUM INFRARED SAUNA
Infrared Sauna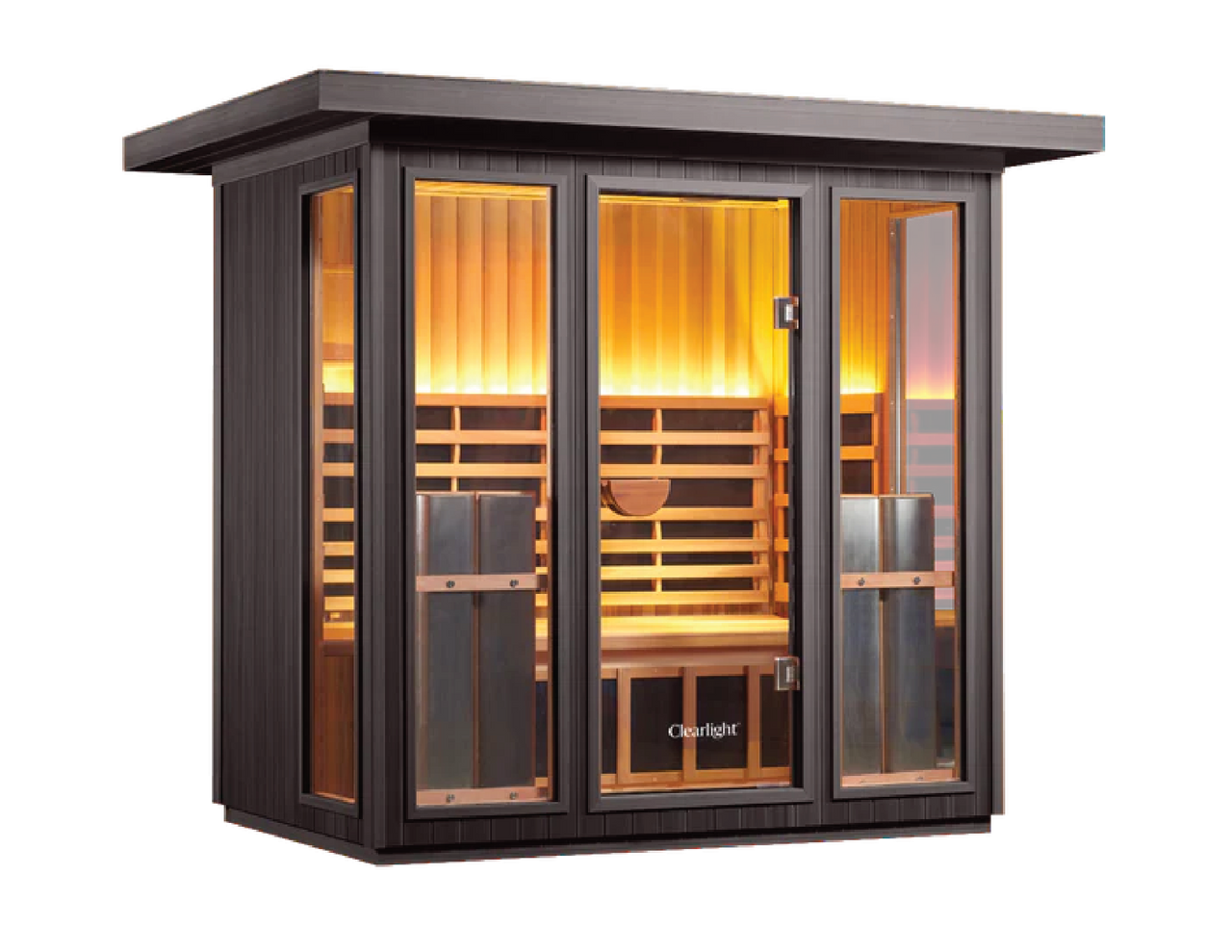 4-5 Person Outdoor Full Spectrum Infrared Sauna
With the outdoor infrared sauna, you get the best of both worlds. 
Built to endure the weather outside, or fit neatly inside your home, the choice is up to you with this innovative 4-5 person outdoor infrared sauna. With its beautiful engineered Mahogany wood, it's a showstopper wherever you end up putting it!
And while it looks amazing, that's just the start of this outdoor infrared sauna's charm. 
You'll have on-demand access to the ultimate luxury experience. Sweat away the stress of the day while also enjoying some brilliant health benefits:
Increase metabolism and weight loss

Relieve muscle pain

Boost the immune system

Detoxify the body

Improve the appearance of cellulite

Ease joint pain and stiffness

Reduce stress and fatigue

Improve the appearance of skin
The sauna is built to maximize these benefits through its groundbreaking innovation. Not only are our saunas the only true Full Spectrum infrared saunas available offering advanced near, mid, and far-infrared technologies, but the 5-person sauna is jam-packed with 2,000 full spectrum infrared heaters.
That's more than enough to get a good sweat on!
The technology doesn't end there. All our saunas can be controlled remotely using our sleek tablet/smartphone app. This gives you complete control over your experience, allowing you to maximize relaxation and enjoyment. 
This outdoor infrared sauna can be placed virtually anywhere and is built to withstand harsh weather conditions, so the only question that remains is where you're going to put it!
It's hard to beat this
outdoor infrared sauna
.
The Sanctuary Outdoor 5 uses Engineered Mahogany Wood. We use thick double pane glass throughout, and the double wall tongue and groove walls are insulated to keep the heat in. 


Width: 76.75″
Depth: 47″
Height: 71.5″
Benches: 72.75″ recline/flat bench


Width: 82.25″
*
Depth: 51.5″
*
Height: 80″
*
Weight: 1,050 lbs
*

 

Add 8.25″ for the Roof Overhang
When building the Sanctuary Outdoor 5 into an enclosed space, we recommend leaving 2″ around the sauna.
True Wave™
far infrared heaters on the back wall, side walls and in the floor.
True Wave™
 full spectrum heater located the on front wall.
240 volts
3,800 watts
16 amps
Plugs into a 240v outlet
Plug:  NEMA 6-20p

THE CLEARLIGHT SAUNA DIFFERENCE
What differentiates Clearlight infrared saunas from all others? Our superior craftsmanship and our True Wave™ heating technology that gives you full spectrum infrared throughout your entire sauna session! 
Your Outdoor Clearlight sauna includes beautiful design with, recessed accent lights for mood and reading, digital keypad, Medical Grade Chromotherapy, Bluetooth and AUX audio and optional iOS and Android Smartphone control.
We include a doctor-designed built-in ergonomic backrest and recliner/flat bench. The built-in ergonomic backrest provides ultimate comfort. 
Control your sauna with the Clearlight® Connect App on your iOS or Android Smartphone.  Our Patent Pending door handle design is also a smartphone holder so you can enjoy your choice of entertainment while relaxing in your sauna.  You can also control your sauna with the built-in digital keypad and with "Reservation Mode" you can pre-set the sauna to turn on up to 36 hours in advance.
The Sanctuary Outdoor 5 uses our Low EMF True Wave™ Full Spectrum heater in the front of the sauna and our Low EMF True Wave™ far infrared heaters surround you on the back and side walls. 
We also position our heaters so the infrared heat is concentrated on your body. Since infrared heat travels in a straight line, any heater that goes up over your head is only heating the air. By using our high output heaters, we can concentrate the heat exclusively on your body so you get the most benefit. You are surrounded by high quality infrared heat in the Sanctuary Outdoor 5 Infrared sauna.
For Constant Infrared Heat simply set the digital controller to the highest setting. You'll receive 100% constant far-infrared heat with absolutely no heater shut-off throughout your entire 30 to 45 minute sauna session. Our combination far infrared and full spectrum heaters provide safe, deep penetrating infrared heat.
MEDICAL GRADE CHROMOTHERAPY INCLUDED
Your Sanctuary Outdoor 5 also includes our
Medical Grade Chromotherapy
lighting. With 96 LED lights, the intensity of this chromotherapy unit is unmatched.  You can select an individual color or press "auto" mode and the unit will cycle through the all of the colors.  Contact your infrared sauna specialist for more information about our Medical Grade Chromotherapy.
ADD-ON TO YOUR CLEARLIGHT INFRARED SAUNA EXPERIENCE
Ergonomic Backrest

All Clearlight® models can accommodate a cedar or basswood portable backrest for added comfort and support during your sauna session. Designed by Dr. Raleigh Duncan, a Chiropractic Physician and our Founder, this is another added level of comfort to an already amazing experience.
Bench Pad
For added protection a quilted cotton, latex-free, hygienic and washable bench pad measuring 22" x 17" is available. The Bench Pad provides protection to the sauna bench so you don't have to worry about smells and bacteria in your sauna.
Bench Cushion
Add an extra layer of comfort to your sauna session with our custom made Bench Cushions. This 2" thick, waterproof and mold resistant cushion is custom made to fit the bench of your sauna.
TRUE WAVE CARBON / CERAMIC HEATING TECHNOLOGY
Not all infrared sauna heaters are the same. The size of the wavelength and the amount of infrared heat given off by the heater varies greatly from one heater type to another. Some infrared sauna heaters produce high quality infrared heat, but do not emit a lot of infrared. Some heaters produce a lot of infrared heat, but the quality of the infrared heat is not very good.
Only our True Wave™ far infrared sauna heaters combine the high quality infrared heat of Carbon and the high infrared output of Ceramic to produce the most effective infrared heat, bar none.
WHY IS HEATER PLACEMENT IMPORTANT?
The key to infrared therapy is heating your body directly and you want infrared heat on the front and back of your body. In every Clearlight Infrared Sauna® you are surrounded by infrared heat.  There are heaters on the front wall, back wall, side walls, underneath the bench, next to your calves and in the floor.  Most companies using carbon heater saunas don't have heaters on the front walls. That is a big mistake. Without heating the front of your body you will not increase the thermal energy in your body as effectively and you will not sweat and detox as effectively.
In addition, most infrared saunas have very tall heaters starting just above the bench and almost reaching the ceiling of the sauna.  This is wasted infrared heat heating the air over your head and not heating your body.  They do this because they are using weak infrared heaters.
We keep our True Wave™ infrared heaters about 24″ tall so we concentrate the infrared heat directly on your body.  We can do this because our heaters are high output heaters.  Clearlight True Wave™ heaters are the most effective infrared heaters available and are manufactured by us to specifically heat the human body.