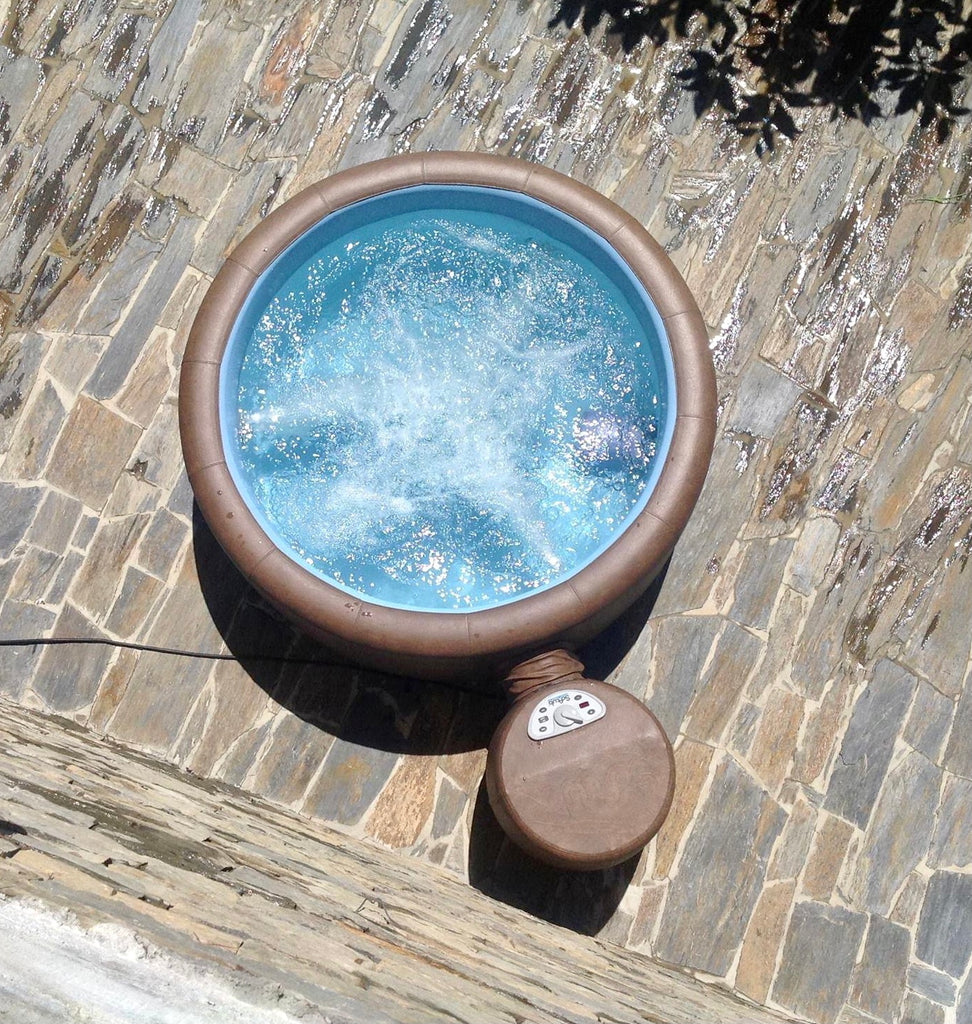 Are you looking for the perfect plug-and-play 2-person hot tub with 110 volt power?
If the thought of owning a hot tub is something that excites you, but you aren't quite sure how you would manage to get 220v power or physically carry a heavy hard-sided hot tub to the area best suited for that purpose, there is a better answer out there. 
Evergreen Softub gives you a better way to get that hot tub experience without having to make drastic changes to your home or property to get it. Portable, affordable, and easy to set up, the 2 person hot tub 110 volt is like nothing else out there on the market today. 
Perfect for your home, garage, deck, patio, or even to go with you on your next vacation, you can get a hot tub experience wherever the road or your next adventure takes you with a 2 person Softub hot tub.
A plug-and-play Softub is the perfect option and with the 2-person hot tub 110 volt, you can't go wrong!
The Best 2-Person Hot Tub 
Sometimes there's just no replacement for sitting in a hot tub. 
Whether you are looking for an affordable and comfortable way to get hot tub massage and therapy at home or the ability to spend time enjoying that experience with someone that you love, Evergreen Softub has the solution for you.
With the purchase of the 140 Sportster (our 2-person 110-volt hot tub), you get exactly what you are looking for and an affordable price tag to go with it. 
Featuring an inner shell of Polybond Foam and upholstery made of LeatherTex Marine Grade Vinyl, your new tub has been engineered to hold up in many different environments and give you years of comfort and enjoyment no matter where you call home.
Looking for something a little bit larger?
We also have 4-person and 6-person plug-and-play models. 
Can You Just Plug In a Hot Tub?
There are two answers to this question!
Traditional hot tubs generally require specialist outlets, which means you need extra electrical work before you can start using your spa.
Don't worry though!
Plug-and-play Softub hot tubs like our 110 volt 2-person hot tub plug into a regular household electrical outlet. This means you can simply plug your hot tub in and start using it as soon as it's hot. 
Not only does this save you money on installation, but it's also incredibly convenient.
A More Convenient Way To Enjoy Your Hot Tub
For many people, the thought of purchasing a hot tub means additional expenses that may not have been taken into consideration. 
It could mean hiring electricians to run new and bigger power to the proposed location of your new hot tub, hiring a carpenter to build new supports on your existing deck, or even hiring a contractor to build a new patio to level off a space to hold your new hot tub. 
If the thought of additional expenses doesn't excite you, don't feel alone. Thankfully, an Evergreen Softub allows you to get that same experience without having the extra costs. Less weight, plugging into a 110v outlet, and folding up for easy transportation, the Softub gives you a more convenient way to enjoy your new hot tub.
How Long Does a Plug and Play Hot Tub Take to Warm Up?
Although Softubs can plug directly into a regular 110v outlet, they're still incredibly powerful. 
A lot of this is down to innovative technology that makes them more efficient than many traditional hot tubs. This means your Softub is constantly at an optimal temperature, ready to use. 
If you do choose to move the hot tub around, then it will take about 48 hours from when you fill it with water to reach optimal temperature. 
The best part is that even though your Softub spa is always ready for use, its monthly running costs are very low. In fact, the average monthly cost of running a Softub is around $9.60 a month versus $40-75 for a traditional hot tub.
A Comfortable Experience Like Nothing Else Out There
When it comes to the comfort and convenience of having a hot tub at home, our Softubs give you all of the benefits without any of the drawbacks of a traditional hot tub. 
Not only is the 140 Sportster model a 2-person hot tub for only 110 volt outlets, but it also has some extremely powerful features:
4 powerful jets conveniently located to hit those trouble spots and make water therapy easy 

room for up to 2 people when simply soaking

a soft feel that gives you a much more comfortable experience than traditional hot tubs with their rigid seats that make you feel like you are sitting on concrete
If you love comfort and convenience and are looking for a way to get that same experience out of your hot tub, choose the 140 Sportster 2 Person Spa from Evergreen Softub.