CLEARLIGHT SANCTUARY C - Full Spectrum Four Person Corner Infrared Sauna
Infrared Sauna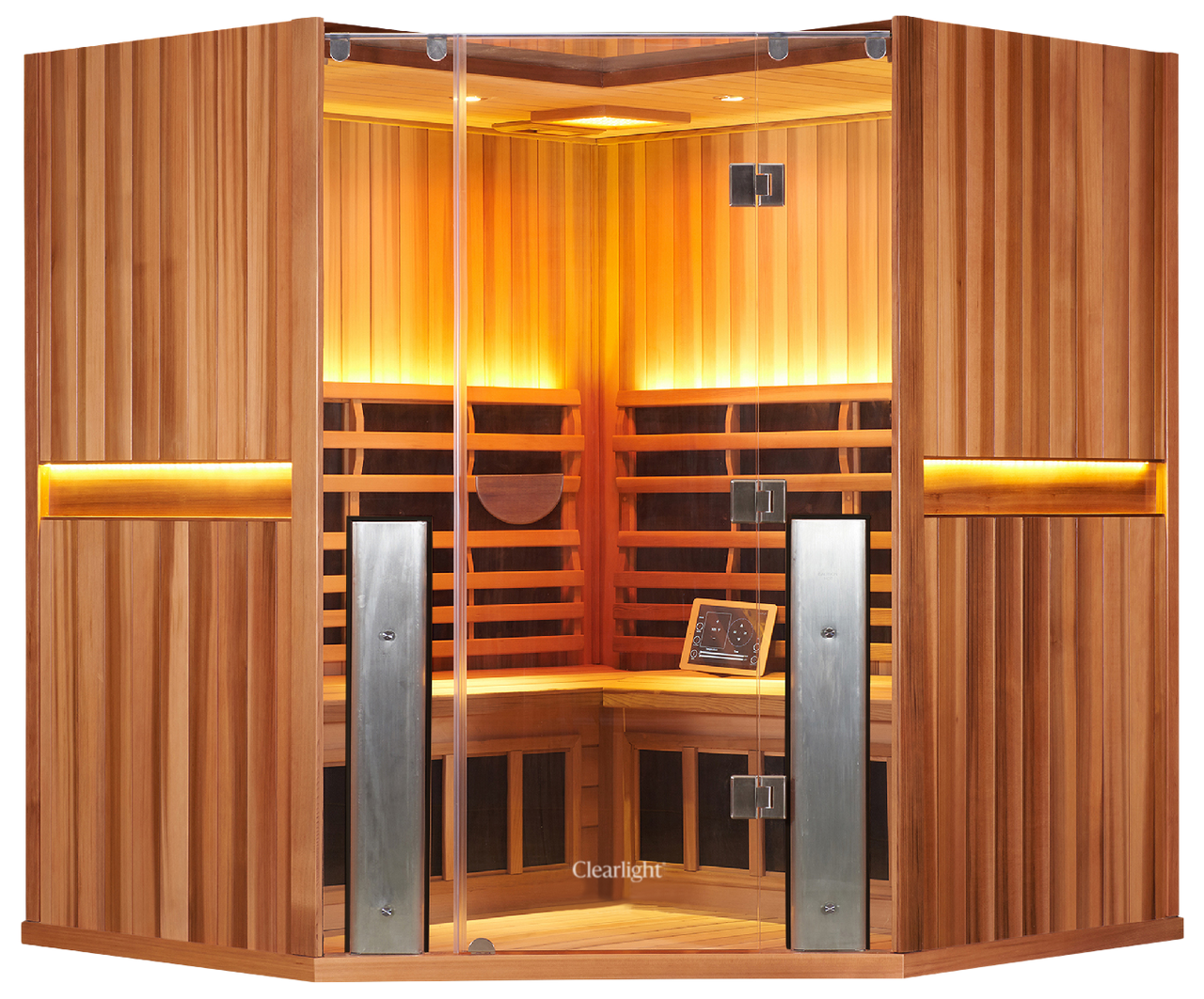 Sit back, relax, and enjoy all the health benefits of this four-person corner infrared sauna!
The full-spectrum infrared rays give you maximum health benefits and create the perfect environment to sweat away your stress.
Whether you choose the Mahogany or the Basswood one, you're guaranteed a beautiful, high-end finish. What's more, it comes with all the modern gadgets you could wish for: smartphone control, built-in charging and audio station, reservation mode, and more!
When you come home from a busy day, or you wake up feeling a little achy, the last thing you want is to get in the car and sit in a sauna with a bunch of strangers.
With the full-spectrum, four-person corner infrared sauna, all you've got to do is get in. You'll have the sauna to yourself, or, if you're feeling generous, share it with three of your nearest and dearest.
Having your own infrared sauna is simply another level of luxury, and guess what? You deserve it!
All you've got to do is find the perfect spot in your home, and this corner infrared sauna will fit right in. It's perfectly designed to get maximum value from your space, and its wonderful finish ensures it becomes a focal point of any room you choose to put it in.
It's time to bring new levels of relaxation into your home!
FEATURES
iOS/Android Smartphone Control (optional).
Medical Grade Chromotherapy Included.
Built in charging & audio station.
Distinctive door handle/smartphone cradle for easy media viewing.
Reservation mode so you can set your sauna to turn on up to 36 hours in the future.
True Wave carbon/ceramic low-EMF far infrared heating technology on the back wall, side walls, under the bench, next to your calves and in the floor and our low EMF full spectrum front heaters.
ELF shielding with the lowest ELF levels in the undustry.
Flawless "furniture grade" cabinetry with 8mm thick glass front and ceiling.
Italian designed sauna with a glass roof for style and comfort.
Comprehensive Limited Lifetime Warranty.
Easy Installation (this product does require some assembly and installation - normally about 60-90 minutes).
Much More…
SPECIFICATIONS
 WOOD TYPE
The Sanctuary C is available in either Mahogany or Basswood.  We use 8mm thick tempered glass and double wall tongue and groove construction.
HEATERS
True Wave™ far infrared heaters on the back wall, side walls, under the bench, next to your calves and in the floor.
True Wave™ full spectrum heater located on the front wall.
ELECTRICAL
240 volts
3,220 watts
13.5 amps
Plugs into a 240v outlet.
Plug:  NEMA 6-15p

 INTERIOR DIMENSIONS
EXTERIOR DIMENSIONS

Width: 68″
Depth: 68″
Height: 74″
Benches: two 66″ x 22″ benches

Back walls: 71″
Side walls: 38″
Front wall: 47″
Height: 77″
Weight: 640 lbs
Shipping on all saunas typically takes 4-6 weeks (can be longer if not in stock). We will contact you via email after you place your order with more specific shipping information.